Adapt and React to Increase your Marketing ROI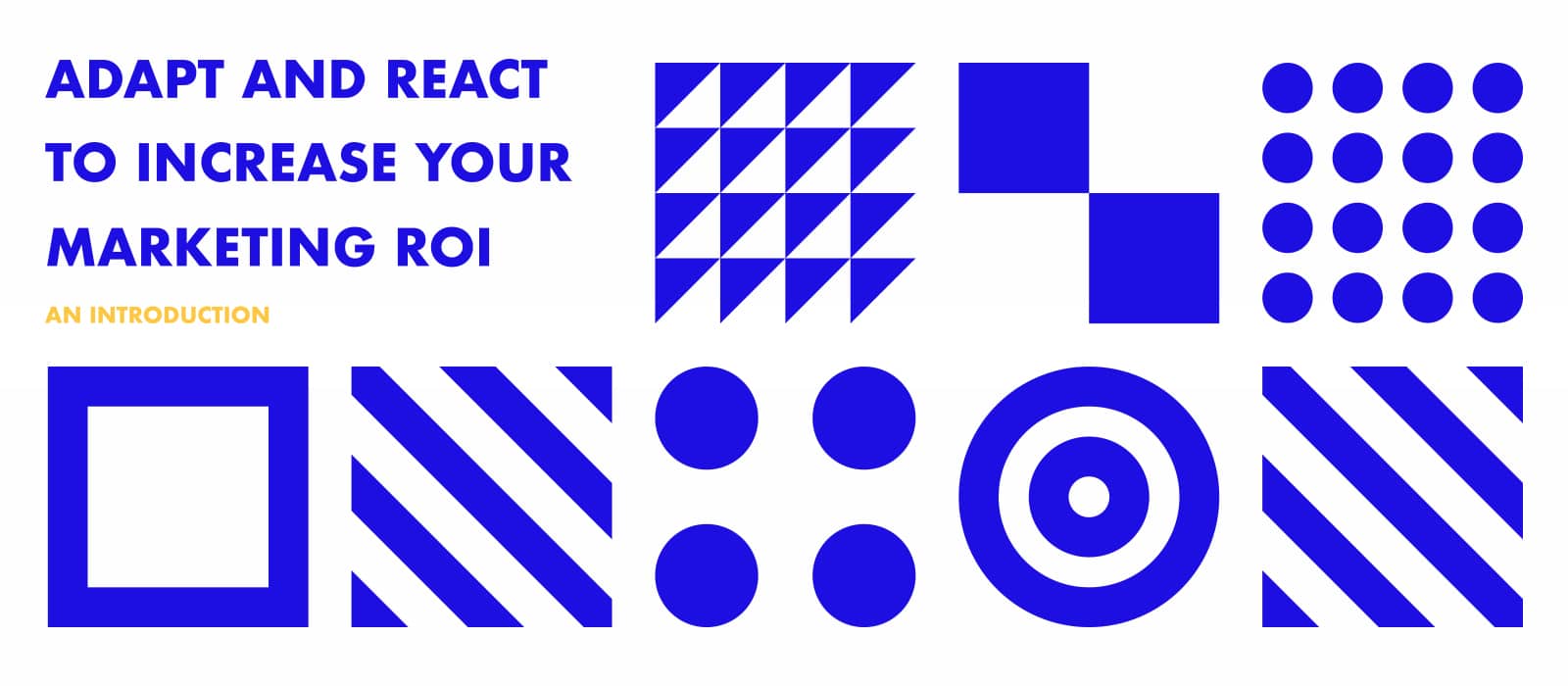 If you have an endless marketing budget, you can close the cover on this entire issue. If you aren't worried about getting the maximum ROI on your media spends, you won't find anything useful here.
For everyone else, allocating funds for content creation and media buys is a daily balancing act – and one that is increasingly complicated and overwhelming.
The number of marketing tech software solutions, scoring systems, demand generation best practices, etc. are seemingly limitless. Today, there is software overload that makes people think managing customer relationships and scoring social behavior is incredibly complicated.
As marketers, we create customer personas, messaging outlines, creative campaigns and sales projections, and turn it all into nifty little charts. In return, we get a budget to execute the plan.
Fast forward a few weeks, or a few months, and you're doing one of three things:
Meeting your expectations.
Failing to meet expectations.
Exceeding expectations.
There is no fourth option, and two of the three require change – possibly massive changes.
RACE to Results
I live in what is known as the Racing Capital of the World – home of the Indianapolis Motor Speedway and its famous 2.5-mile loop. I spent years working in racing PR, so naturally, I am drawn to the RACE model of a consumer lifecycle. Though, HubSpot will tell you there are approximately 496863!6844 other models/stages. But, in my experience, the more stages, the more complicated the process.
Reach is the method by which you first make consumers aware of your product. This can be accomplished in a myriad of ways, but are most commonly associated with search engines, social media posts and branded content. In the classic, funnel-driven marketing strategy, Reach is the top level where awareness is key – awareness of your brand, your story and your product.
Act is defined as any action taken by a consumer with your content or product. This could be visiting your website, clicking an ad, browsing your YouTube channel, signing up for an email list, etc. This is the information gathering stage. Your brand may be in competition here. Consumers will begin to compare prices, reviews, product features, delivery timelines or anything else that can help them choose one brand over another. At this point, the consumer is aware of you, but they need more information about whether or not your brand is right for them.
Convert stages are all about the final push to the sale – where a shopper becomes a customer and vital business information like conversation rate and average order value. Here, you have to change that desire for a product to a need for a product. Content highlighting new products and promotions (think "Free Shipping on Orders Made Before Sunday!" incentives) are drivers of the conversion stage.
Engage your new and existing customers with loyalty/reward programs, satisfaction surveys, social sharing and more. Engaged customers are more likely to shop with you again and share their love of your brand with people around them.
The concept of the consumer lifecycle is about as old as the concept of the consumer. The imagery, acronyms and execution shift with new technology and consumer trends, but the basic logic remains unchanged.
Our social media and media buying studio, (amp), is seeing the rise on top-level metrics – like impressions – become the defacto bulk spend on digital ad buys at the expense of nurturing customers, or even making a sales pitch to them at all. The idea being: you Reach your audience with information about your product or service with a digital ad buy, but then let the A, C and E stages operate as normal without any additional spends. Simply watch, react and reallocate when and where necessary.
This front loading of digital ad dollars can primarily be attributed to to the ease with which advertising platforms on search and social channels make media buys for reaching large audiences. But remember, what's good for Facebook and Google advertiser revenue streams may not be what's best for the bottom line of your brand.
You're good at your job and/or have hired Leap Group to manage this process. The campaign began, is getting traction and killing it. Now: What next?
Too many times I have seen people do nothing. They stick with the strategy outlined at the beginning of the campaign, even when the expected results have changed. They keep the same budget on Reach and continue putting money into the impression-heavy ad spend bucket, because that's what the original plan clarified.
Then, at the end of the year, you're wondering why your CFO is glaring at you from across the conference table while you argue against cuts to next year's budget.
In this scenario, the marketing mix didn't adapt in real time. No adjustments were made, even when there was enough data to merit revisiting the strategy. In fact, if you view your campaign outline as a chain, not a suggested path, you're not taking advantage of what makes digital marketing magic.
Instead, have a plan for the unexpected results of your initial campaign push. Get ready to adapt your content to meet the needs of the campaign, should you fail to meet or exceed expectations. It's simple. If your business changes, your marketing should change in real time.
| | | | |
| --- | --- | --- | --- |
| REACH | ACT | CONVERT | ENGAGE |
| Goal: Low CMP, High Impressions | Goal: Clicks | Goal: Sales | Goal: Shares, Lower CPE |
| Content: Brand Story and Brand Equity | Content: How Will Customers Use It? | Content: Strong CTAs and Incentives | Content: The Sky's the Limit |
As you can see, the Act, Convert and Engage content buckets are where there's room for real-time adaptations to your budget and strategy. By following these stages, you can turn your customers into brand evangelists.
Walt in "Breaking Bad" brought back an old salesperson phrase, "Learn to take 'yes' for an answer." If your Reach content is doing its job and the targeting is correct, you should get a lot of "Yes" responses from your audience. That is, people want to make a purchase.
Eventually, you will want (make that, need) an action from said potential customer. To gain this, content is needed around how to use the product, what it does for the buyer and how it will make them feel. You must tell a prospect what it is your product can do, not just that it exists.
Conversion is where you make your hard sell because frankly, there is no better time. Make them an offer they can't refuse – turning that desire for a product into a need for that product. Offers like free shipping, 20 percent off, BOGO and more are all strong conversion selling points.
And finally, engaging the customer around the brand keeps consumers interested. With a continued relationship, there are cross-selling opportunities for them to share your product or business to their friends, family and audience networks.
This isn't new information to any marketer out there. However, it is vital to remember how important timing and flexibility of your messaging will play out in real-time online.
I'm not here to disparage investing marketing budget into Reach. In fact, in this issue, we will discuss some of our industry leading best practices. But, if you can remember one thing, Act and Convert is where you make your money and win the campaign. Engage is where the RACE rubber meets the road, and where your marketing dollar, and the business/consumer relationship goes further. Awareness marketing isn't wrong, it's just not enough. You have to be ready to move to Act and Convert when the time comes, and engage the customer post-purchase.