Affiliate, Marketplace, CSE, Oh My!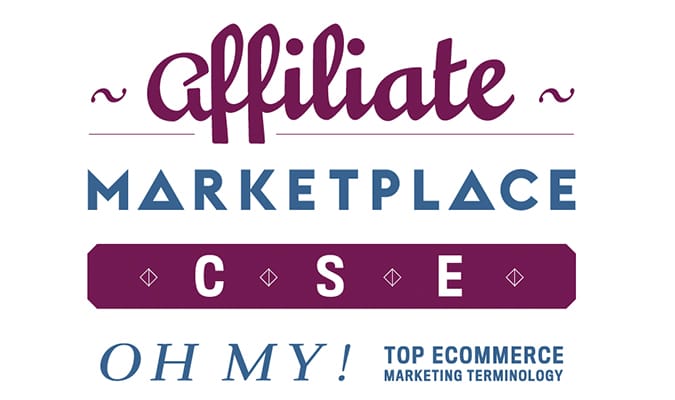 AFFILIATE

An affiliate is a website or business that earns a percentage of a merchant's revenue (usually commission-based) from each conversion or lead they drive to a designated website. Affiliates provide their users links to a site through their own marketing efforts. They publish provided links or images on their site in order to get conversions of clicks, sales or leads. Through affiliate marketing there is greater chance to reach a larger audience for a lower cost.



Examples: retailmenot.com | savings.com | dealmoon.com




MARKETPLACE

A marketplace is an online shopping site, similar to a flea market, where third parties provide product and inventory information, and the marketplace operator processes the transactions.



Examples: Ebay | Amazon | Etsy | Rakuten




COMPARISON SHOPPING ENGINE

A comparison shopping engine (CSE) is an Internet service used to price online advertisements. These sites allow you to compare prices of specific products by merchant product feeds submitted to each platform.



Examples: Bing shopping | Google shopping | pricegrabber.com




ADVERTISERS & MERCHANTS

An advertiser or merchant pays money to each affiliate for completing a transaction via an affiliate link, which is generally embedded in a creative asset.




AFFILIATE NETWORKS

Affiliate Networks are kind of like the middleman. They contain offers for the affiliate to choose from and also take care of the payments to affiliates. As an affiliate site, you can join these networks. Advertisers and merchants use them for ease of distributing commissions and management of a large number of affiliates.



Examples: Google Affiliate Network | ShareASale | Commission Junction




COOKIE

A cookie is a small piece of data sent from a website that is stored in a user's browser while they are perusing a site. Every time the website is loaded a cookie is sent back to the site to notify them of the user's activity. Cookies remember users' shopping carts and behavior prior to them creating an account on the site. You can also prepare customized pages for users with the help of cookies.




SHOPPING CART

The shopping cart is where the selected products are housed until checkout.




CONVERSION RATE

A conversion rate is the percentage of people who take a desired action.




ABANDONMENT RATE

The ratio of abandoned shopping carts to the total transactions completed.




CPA = COST PER ACQUISITION

Cost / (total impressions x click-through rate x conversion rate)




SECURE PAYMENT GATEWAYS

Help conduct secure transactions on the Internet using SSL technology.




SSL = SECURE SOCKET LAYER
A secured layer of a website used to pass encrypted data, typically requiring a login

and denoted by https.