An Inside Look at Leap Group's Website Process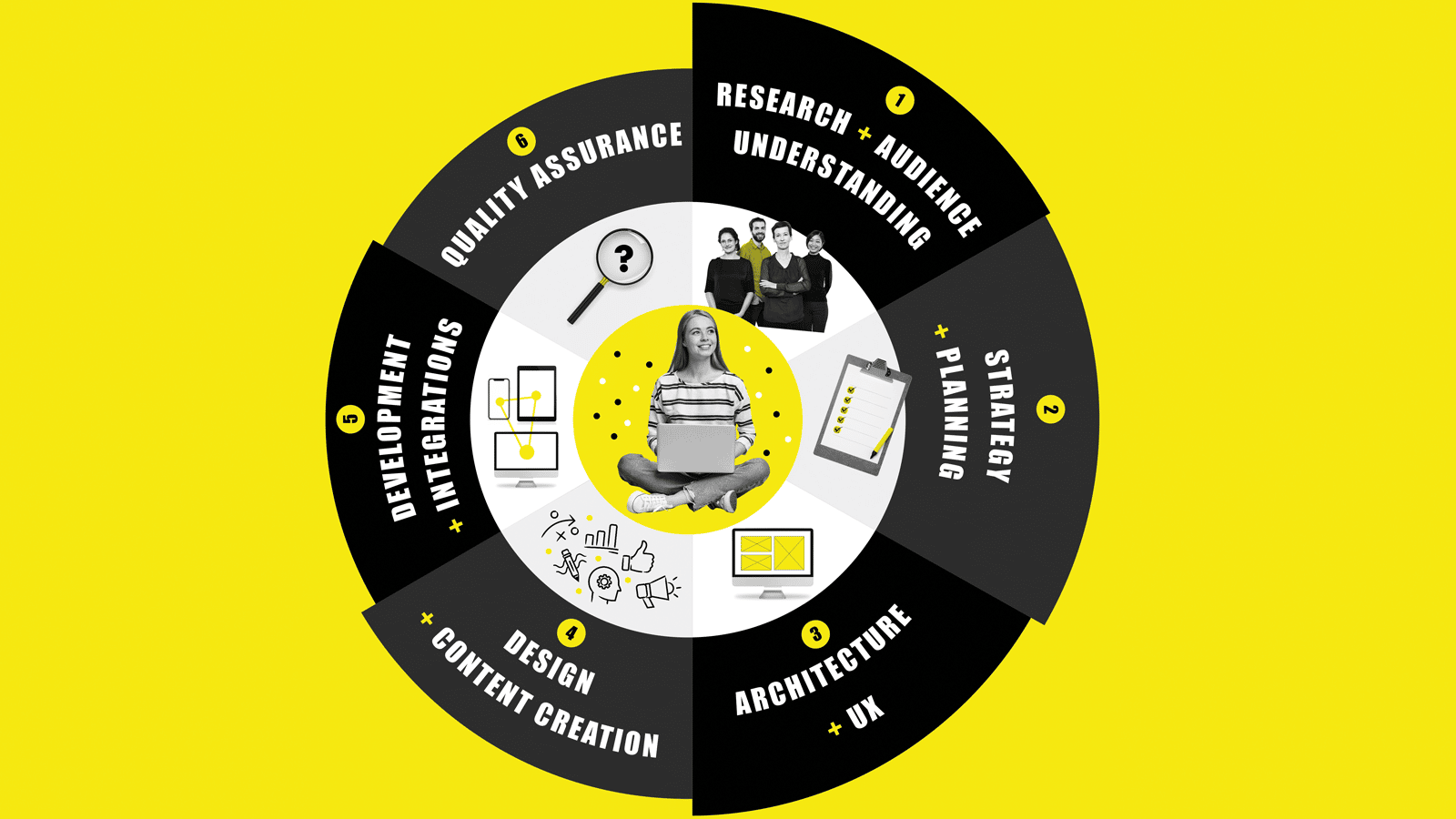 All websites Leap Group constructs are built with our unique 6-step process. Through each step, both our team and clients are ensured no stone is left unturned and that we can quickly scale for projects of all sizes.
RESEARCH + AUDIENCE UNDERSTANDING
Our journey begins with the question "Who are you trying to connect with and what is important to them?" Discovering those answers allows your brand to achieve what we believe is the most powerful outcome of any website ¾ mattering more.
We start with stakeholder interviews and audience research to understand what matters to you and your customers. This can take the form of focus groups, one on one interview, and surveys. Our LEAP Panel team handles a lot of this research, deploying the focus group and stakeholder interviews, then conducting secondary research to fill in any gaps in knowledge.
Nothing is left to chance – the research, data and insights gathered during the Discovery Phase drive nearly every marketing recommendation moving forward ¾ from creating personas and journey maps, crafting UX and designs, to writing content and calls to action.
STRATEGY + PLANNING
In the strategy and planning phase, we use information gathered in Phase One to create the overall website strategy. This includes functional requirements and user stories, depending on your needs.
In this stage, a full data exploration also occurs to help determine any gaps in data integration. This leads to what technologies will be implemented on the website, such as the appropriate content management system for your business needs.
ARCHITECTURE + UX
The third phase builds upon the business requirements document with the addition of the full website sitemap. We build wireframes with the complete user experience at the forefront of our thinking, ensuring the user path ultimately delivers on your business objectives.
This phase also includes any content strategy or matrix creation needed for content personalization.
Here, we'll make decisions on how to fulfill data architecture and any third-party integrations needed.
DESIGN + CONTENT CREATION
Phase Four of our website process is merging form with function.
Today, people have less time and more distractions. A well-designed website contributes to a successful business and future growth. Design helps customers find what they're looking for quickly and efficiently. It holds their hand and guides them down a path, answering pertinent questions as they go.
When it comes to writing and content creation, we embrace our core belief: Market Less. Matter More. If you give your visitors the information and education they need, which is determined by personas, they'll see you as a helpful expert – not as a salesperson.
DEVELOPMENT + INTEGRATIONS
At this point, we have the blueprint for the site. During this stage, our development teams code, build APIs, tests and repeats. Our technology and engineering teams understand both technology AND marketing. Because of that, we build the right roadmap for your business.
A major benefit of working with Leap Group: We don't outsource. Our developers consistently uphold the vision of the project working directly with designers, copywriters and SEO specialists.
Our technology and engineering teams are certified partners for over eight major CMS systems, so we know the benefits and loopholes that allow us to recommend the best solution for your project.
QUALITY ASSURANCE
Once the code is clean, Phase Six begins. This phase is all about testing. Our teams put your site through the ringer, looking for every possible issue. Does it look right? Is it loading fast enough? You get the idea.
This is also when an analytics plan and a redirect plan (if necessary) are implemented. This process is commonly referred to as Alpha Testing.
Successful Alpha Testing relies on great communication between all teams: Design, Developers and Digital Services. Because Leap Group is dedicated to keeping our talent in-house and not outsourcing, we're able to uphold the integrity of the site, leaving nothing lost in translation.
Each phase of our website process is crucial for the project outcome. Though each process step is owned by a respected subject matter expert on our team, we have found the real beauty in the process is how we work together – internally as a team and as a partner with our clients. Said shortly, a good website is equal parts logic & magic – with a lot of process steps in between.