Are your SEO and SEM strategies in sync?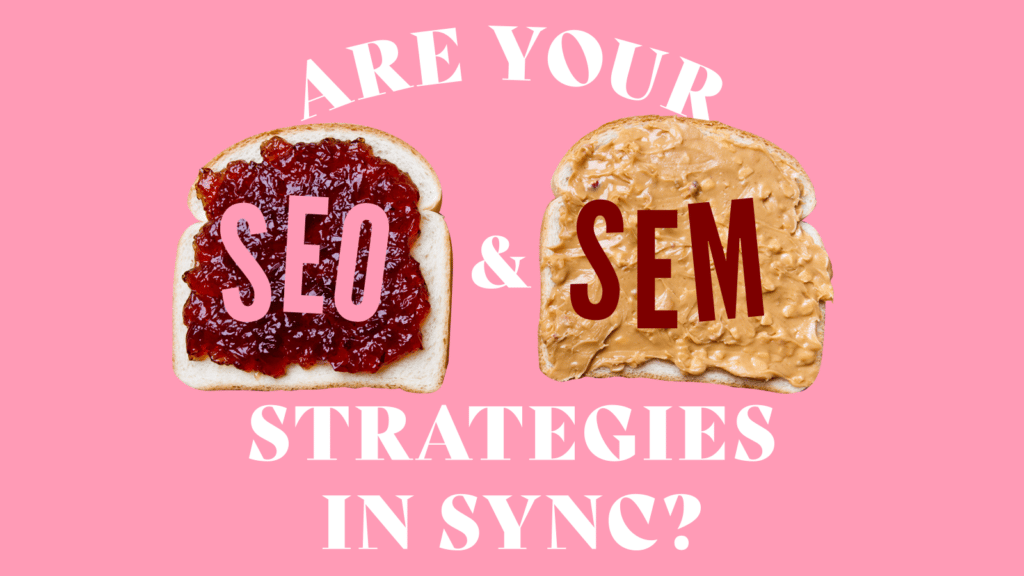 Peanut butter and jelly. Milk and cookies. French fries and ketchup. Some things are just better together. And when you align your Search Engine Optimization (SEO) and Search Engine Marketing (SEM) strategies the results are just as delicious.
Here are four reasons why you should sync your SEO and SEM strategies:
Save money by sharing keywords. Depending on your keywords and how crowded your marketplace is, your CPC on competitive keywords can get expensive. Sharing keywords between your SEO and SEM agencies can help eliminate unnecessary spending on keywords with a high CPC if you already rank for them organically on the first page of the SERP.
Fill gaps in organic traffic after a new site launch. Even the best planned website redesign relaunches can create a 5-7% dip in search traffic to your website while Google crawls your site and re-evaluates content within the context of your new design. Offsetting this temporary dip with paid ads for important keywords can help keep your funnel full while Google catches up.
Maximize brand awareness. Based on Google Ads Quality Scores and how much you're willing to bid Google serves paid ads at the top of the SERP before listing organic results. When combining paid with organic strategies, you can leave a meaningful brand impression before your audience gets to your website. Create a more cohesive brand story by occupying space at the top of the SERP through paid ads and appearing organically down the page to provide more information for that same keyword. Syncing your paid and organic strategies are especially helpful when your content shows up in a SERP feature – like a local pack, instant answer, video or image – as google typically do.

Generate content ideas and improve quality score. Access search term reports within Google Ads to find detailed information what your audience typed into the search bar to get served your ad. For example, if your paid keyword is "moving" but your ad is showing for search phrases like, "cross-country moving" or "how to prepare for moving to a new state" you can use these insights to develop new content on your site that directly answers these needs and in turn, update your landing page for the ad. By developing content that aligns with the query, you're likely to increase your quality score and improve ad performance.
Create a sweet synergy. Linking your Google Search Console to your Google Ads account gives you access to special reports that help you better understand how paid text ads and organic search results work together to reach people searching online. Take the first step in aligning your SEO and SEM plans by connecting search console to your ads account.