Connecting Through Unconventional Means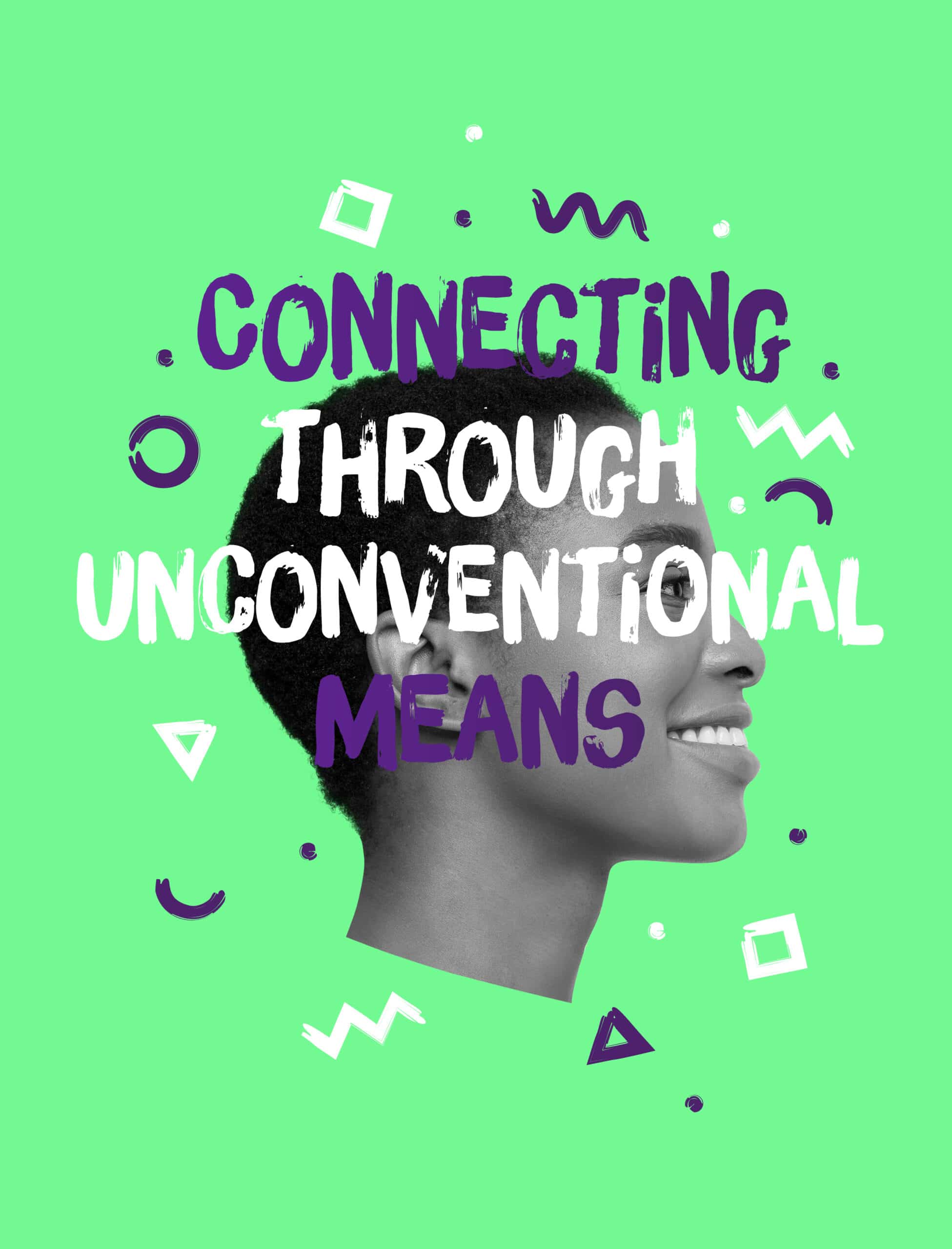 always something new
Ways of connecting with consumers are always shifting. In the early 2000s, brands hopped on MySpace. Then it was Facebook. Starting just a handful of years ago, guerilla-marketing style pop-up shops began turning heads and creating headlines. AI allowed brands to interrupt daily life with images of dinosaurs or Pokémon Go attractions impeding their realties. Flipping through this magazine alone, you will find various invaluable insights into marketing, strategy tech and design trends.
As we've seen this year, sometimes creativity is needed to overcome ever-approaching marketing obstacles. And sometimes they're needed just to stand out in the crowd. Here are a few things to keep in mind as your brand begins exploring "unprecedented" ways of connecting with your consumers.
create audience engagement
Connect with your audience in a way that grabs attention, then doesn't let it go through engagement. Find ways to turn your followers into more than customers, but brand advocates. Engage in meaningful ways, such as:
1. Creative Giveaways and Contests of Substance.
There are a lot of brands that have seen the value of executing big, splashy giveaways – they garner lots of organic engagement and help collect a lot of useful customer data. For example, Valdo Prosecco gave away a trip to Italy to the Instagram user that created the best cocktail using their sparkling wine, then posted their creation on social media.
And maybe my favorite example: Every December, Hallmark gives away $20,000 to Hallmark film trivia buffs who play their Hallmark Channel® Countdown to Christmas Fantasy Game.
The "substance" I was referring to is data. Both of these contests are all on-brand, create invaluable organic buzz on multiple mediums and aid customer data collection. Both the brand and the consumer benefit from playing together.
2. Create a Unique User-Generated Content Strategy.
Adweek recently published a study that found user-generated content is more influential than branded content. Writer Kimberlee Morrison points out consumers trust other consumers honest reviews more than branded photoshoots and videos. Additionally, brands benefit from good reviews and content of their product or service in motion.
Global food and hospitality company Delaware North created hashtags for their various properties, encourage guests to share photos when traveling, and incorporate UGC into their website – using consumers as brand advocates for vacation properties.
If brands do want to utilize more UCG, provide clear opportunities and guidelines for how consumer's posts could be featured on the branded social media page. In her article, Morrison states more then 50% of consumers want direction when sharing a brand's content organically, but only 16% percent of brands provide that direction.
have a conversation on social.
Social media was always meant to be "social." Even corporate social media profiles should be interacting with fans. Don't be afraid to have a conversation.
And pro tip: It's a good way to juice the algorithms.
We see examples of brand/consumer conversations every day. Tesco Mobile has real, human conversations with customers on Twitter (both satisfied and not). Oreo's Twitter page is fun and positive (and somewhat flirty) with their followers.
Of course, some brands using social for customer service. But some are also having fun with it.
Wendy's has sassy repartee with followers on their social channels. RGA ¾ our clever competitor ¾ has sardonic and witty pop culture commentary on Twitter.
It would be wise to establish a brand personality for your team to follow before engaging in personal connections as a brand. Find a voice that represents the best parts of your brand identity, can be a force for good will with your followers, but that isn't inauthentic to your internal corporate culture. Package this all up in a deck to share with your team so everyone can be on the same page, no matter who is on your brand's Twitter account that day.
allow your lead generation team to create hyper-personalized campaigns.
Hyper-personalized campaigns work for businesses of all sizes. From a Boise-based real estate agent specializing in a specific neighborhood using Facebook and direct mail, to large e-commerce brands like Stitchfix and HelloFresh tapping into dynamic direct mail that integrates with landing page URLs, dynamic content and digital advertising.
Three things to keep in mind when it comes to distributing campaigns:
1. use different channels.
Campaigns can be sent through email, direct mail, SMS or other mediums ¾ or all the mediums.
2. Don't be a robot
Anymore, any campaign message needs to convey there is a person on the end of the message – not a bot, not a platform. You know you're using a CRM to distribute messages, but consumers don't want to feel like they're a part of an automated distribution cycle. Messages need to be personalized and written in third person to feel like you emailed them directly.
3. focus your aim
Campaigns are most successful if you're targeting a small list or a targeted group you know a lot about.
Before we begin any campaign, we do a Discovery of the target audience to understand who they are, what messaging they engage with digitally and what type of content they consume. All of this information helps us create messaging that hits the right people, at the right time, on the right channel.
be a host
A great way to connect personally with potential clients is to create space for them to also connect with potential clients. When you play host at a conference or large event, everyone knows your brand's name (which is half the battle).
Even better, when you're the host, you have all the data on the attendees – helping sales teams prospect and lead gen teams load funnel up with new leads.
Here are some events and the organizations that play host:
google's I/O conference
An annual conference for developers, hosted by Google. The technology giant uses the event for thought leadership, platform announcements and rollouts, hosting networking, providing hands-on experiences, and more.
INBOUND
An annual conference by Hubspot, a software company that specializes in inbound marketing. Hubspot invites highly sought-after industry and celebrity presenters to speak on content and marketing – recently including Elizabeth Gilbert, Janelle Monae, Katie Couric, Alexis Ohanian, and Larry Kim.
webinar world
An annual gathering for marketers focused on webinars and video content, hosted by event management software company ON24. In addition to great keynote speakers, ON24 hosts valuable breakouts by companies succeeding in digital engagement, like Oracle Netsuite, Salesforce, Box, SAP, Merrill, RSM, S&P Global Intelligence, and more.
Use Digital Experiences to Create a Lasting Relationship
Creating unique, digital customer experiences is always important for engaging audiences and outpacing the competition. This is especially true during economic downturns. A recent study by McKinsey & Company's found customer experience leaders had triple the returns of their peers during the 2008-2009 recession.
Consider ways to create experiences online for your audience and customers.
During the coronavirus outbreak, many stores turned to digital media, allowing customers to "shop" using products in the window display and QR codes during the COVID-19 outbreak. Some even posted storefront tours on social media platforms, asking customers to message or comment any pieces they would like to buy.
Despite these hindrances, they still gave customers a shopping experience. Brands that find ways to overcome choppy waters and reduce barriers to purchase are more likely to maintain customer loyalty, over those that aren't able to adapt.
Tech-savvy auto insurance companies have made the un-fun process of switching car insurance a lot less painful through an easy UX, a mobile app that will likely be used beyond the coronavirus pandemic. Root Car Insurance takes out all the things users dread about getting an auto insurance quote (inputting VIN #, license #, etc.) by pulling this data from existing data sources and auto-filling most of this info. The mobile application measures driving behavior and even gamifies the process of getting a quote with points and badge, some of which equate to cash bonuses.
Customers are more likely to provide contact information to a platform in exchange for a service that makes their lives easier – which will only bolster lead gen and marketing teams' prospecting and retargeting efforts.
Organizations that provide a valuable service during a difficult time are more likely to create stronger relationships with their customers, increasing the likelihood of a future purchase when whatever challenge has been overcome.
Sometimes, it sometimes feels like it's hard to matter to your consumers, especially in a crowded marketplace during unprecedented times. Innovation, creativity and a little bit of risk pave the way for building new connections, cutting through digital noise and finding potential customers.