Content Marketing Strategy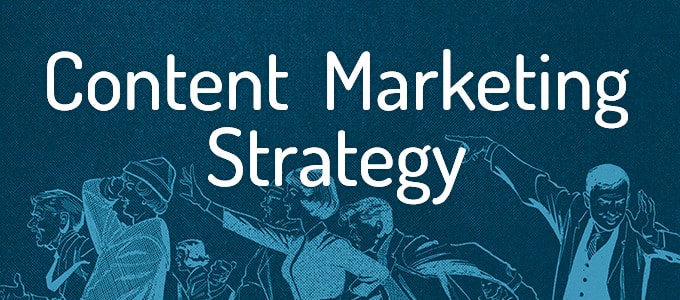 The online world is beginning to resemble a raucous talk show: everyone's shouting to make their point, but is anyone listening?
At LEAP, we have a saying: "Market less. Matter More." That means crafting a message that resonates with your audience and that they are happy to receive. And delivering it in a relevant way that inspires them to act.
According to the Content Marketing Institute, less then 40% of all marketers are successful with their content marketing. Why? What sets apart the not-so-good marketers from the great content marketers?
It's an easy answer. The great content marketers have a documented content marketing strategy. Of those who have a documented strategy, the Content Marketing Institute found that a full 60% consider their organization to be effective. To take it a step further, 62% of the most effective marketers also say they follow the strategy "very closely". The lesson is clear: If you want to be more effective at content marketing, take the time to record your strategy and follow it closely.
So, where does one start? And what goes into a good content marketing strategy?
We believe that good content marketing strategy starts with people—your customers, prospects and the broader community around your brand. The first step of any strategy exercise is to understand the people you are trying to connect with—how they think, what motivates them, what they value, their hopes and dreams.
Brands must deliver and communicate value. That means understanding your unique value proposition, and drafting it in a way that resonates. It's all about relevance of message to your key audiences. Without this, you are just creating more noise and will be ignored.
The content marketing strategy serves the following purposes:
Delight and influence consumers by identifying content topics and content channels where the target audience has an appetite and the brand has a right to play
Leverage successes and existing content for increased reach
Drive choice in investments for content development in high ROI channels
Guide and inform social strategy and conversation calendars
Guide and inform search strategy
Increase continuity of messaging across multiple channels
So how do you make that happen? While there are no definitive templates for building out a content marketing strategy, there are consistent steps you should take to help you build out a strategy that helps your business rise above the noise.
Understand your Customer
This is at the heart of a good content marketing strategy. You have to understand the people you are trying to connect with—their hopes and dreams, how they think, what motivates them, what they value. And then you can ask: as a brand,
do we provide that value?
This is where you describe the specific audiences for whom you will create content, what their needs are, and what their content engagement cycle might look like. You may also want to map out content you can deliver throughout their buyer's journey in order to move them closer to their goals.
So how do you gain insights into your customer base?
If you're on a budget, look at your 10 best customers, and do some profiling of them. What can you learn about them, and what can you learn about yourself? Ask them to tell you what sets your organization apart. Get them to say it in their own words, and listen.
Then go find ten that you just missed, 10 customers that got away. Tell them, "I want to do better, is there anything we could have done?" You may get some insightful feedback that can help you grow. Understanding your audience and their communication habits and practices will help you shape where and how to talk to them.
Set Clear Objectives
What are you trying to accomplish with your content strategy? The answer may be different for each organization. A clearly defined set of objectives will help keep your communications on track and give you something to measure progress against. These objectives should be tied to broader business goals, such as increasing market share or elevating your brand profile. What will success look like? That vision should drive your strategy at the highest levels.
This step should outline the goals you have for your content program, the unique value you are looking to provide through your content, and details of your business model. It should also outline the obstacles and opportunities you may encounter as you execute your plan.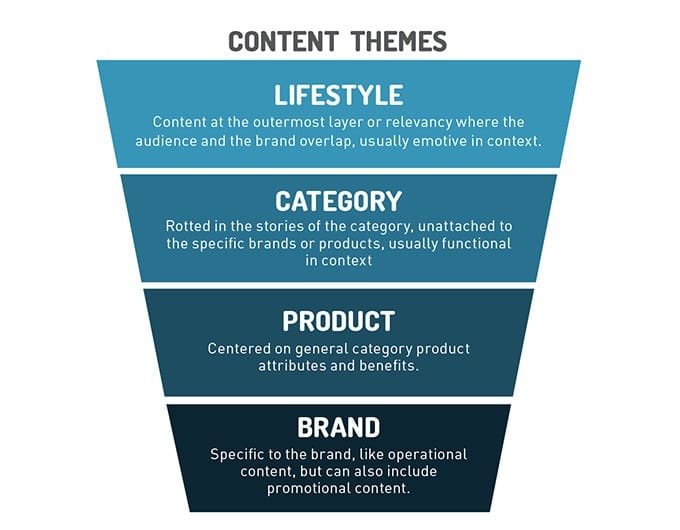 Identify Content Themes
Here's your chance to draw on that deep customer understanding.
What themes or topics will resonate with your audience? How can your brand add unique value or approach these topics in an unexpected way? The most successful content comes from brands that truly have something to add to the conversation, so your themes should reflect your values, strengths and expertise.
Create a Plan
Now you're ready to dive into the nitty-gritty work of creating a content plan. List each content theme, and for each, plot out all of the digital properties and activities, including your brand, key competitors, partners, relevant third parties, search activity, social conversations, etc. The idea is to assess strengths and weaknesses within each theme and choose where your brand can lead, where it should simply play, and areas to avoid altogether. You may also see opportunities to partner, for example, with established experts or associations.
Blogs. Facebook. YouTube. Native ads. There is an ever-expanding array of options for getting your message out. So understanding the communications ecosystem is important. You want to fish where the fish are, as the saying goes. But there's a difference between where your audience could see your message and where they should see your message. Your audience should be receptive to your message in the environment you are delivering it, otherwise you risk alienating
them. So understand the mindset of different channels and choose and tailor your content accordingly.
Experimentation is part of the process of innovating. And there's always a shiny new object to play with, whether that's Snapchat or Meerkat. But beyond the novelty factor, are these trendy new channels and tools a good fit for your brand? Part of effective communications is knowing where not to spend your time.
This step should produce two documents for you at this point:
A distribution plan identifies each piece of content down to the URL, where it lives, what changes are recommended and ownership. It also establishes priority based on objectives/themes and where strengths and weaknesses were identified in the audit.
A content calendar, which takes the prioritization from the distribution plan (1), provides content titles and a 3-month schedule for postings (timing). Each posting should take into account the following elements;
Conversational tone (slightly more formal for B2B)
Place the benefit to the reader up front (Save time with, Save money with, Improve x with)
Include a call to action if possible
Call to action should avoid sounding like work (Instead of Learn More = Get Ahead. Instead of Read More = Get Details.)

At this stage, it is also recommended that you do a complete audit of all content that your organization has produced. Here's why this is important:
This will tell you what content you have and what content you don't – pretty straightforward
This will prevent investing in duplicate content OR will improve the quality of existing content you do have
You can identify, replace, or remove outdated content
You can determine what content can be reused and repurposed
You can focus your efforts on creating new content and curation efforts on gaps you have in your inventory. This will accomplish the business goals and objectives you have outlined out in your strategy.
Measure & Adjust
A content plan is meant to be revisited. Are you achieving your goals? How can you improve? The plan should be updated to reflect new market entrants, current events and shifting business goals.
While measurement comes at the end of this framework, you really need to be thinking about what metrics and processes you will be tracking as you go through all of the steps.