Creating a Lead Generation Lifecycle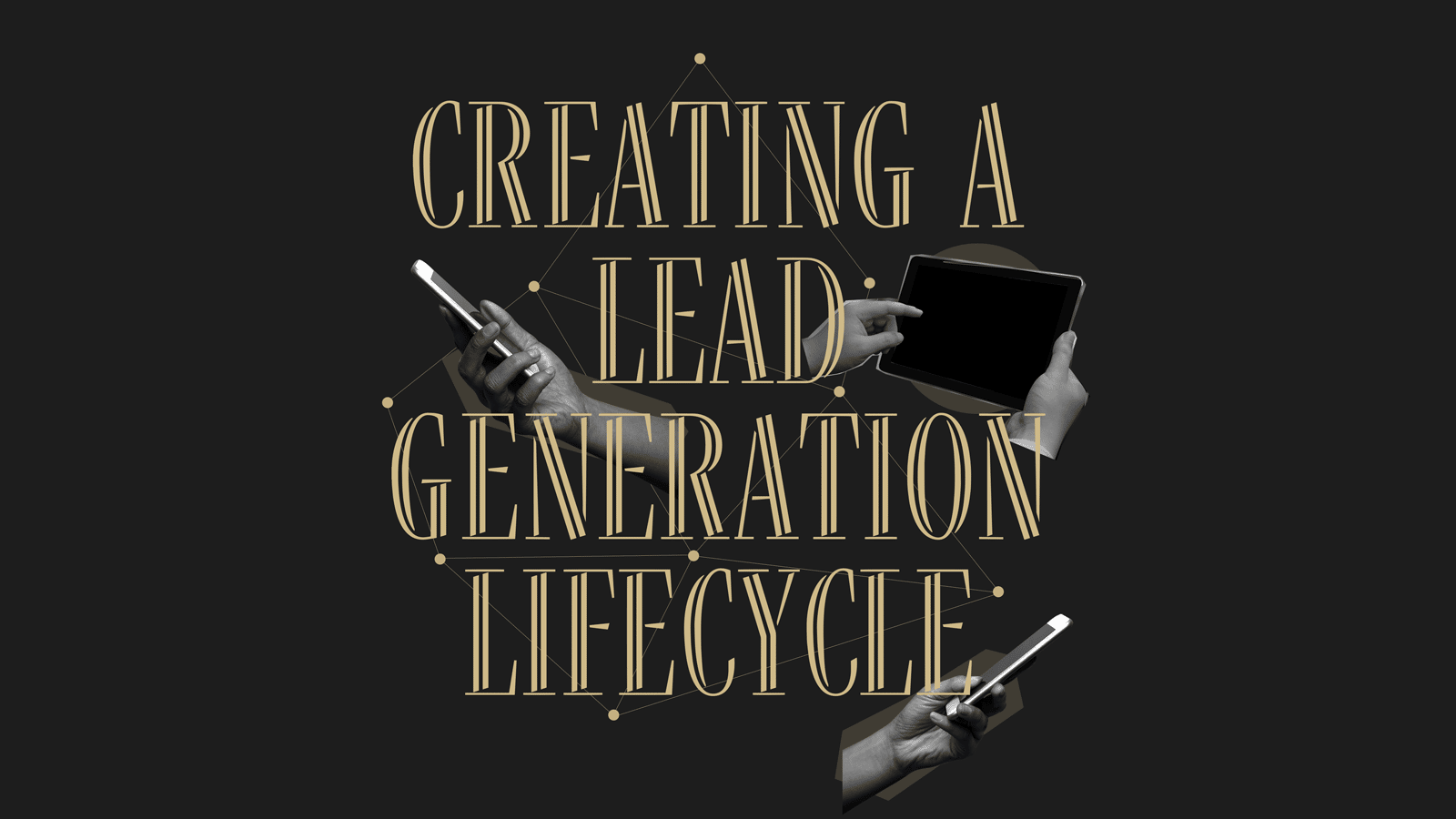 Be wary of articles or blogs or e-books that promise a universal "How-To" guide for generating "NON-STOP leads!" through your website. That said, Leap Group's extensive marketing, development and strategy experience has taught us a few things about how to generate leads online – it's just not a one-size-fits-all-plug-and-chug method. Instead, we've developed personalized lead gen processes for brands that vary on a few factors your brand will need to ascertain.
Today's websites should generate qualified leads, provide relevant information about your products or services and give visitors the opportunity to share information that will empower your sales team. But there are a few pieces of information you have to know about your visitors before you can ask them to hand over their personal information.
bread and butter customers
What demographic and psychographic data do you have on your target audience? If the answer is none, you are shooting in the dark.
Most sales and marketing teams are very familiar with what their bread-and-butter customers look like. But what about those secondary and tertiary audiences? Do you know what they're doing on your site? Planning user journeys is impossible if these insights have not been gathered first. Your team will use this user data to craft tailored user experiences – adapting layout, copy, content, CTAs, lead nurturing campaigns and more.
building that digital roadmap
Knowing what you want a visitor to do on your website is paramount to creating a site that generates leads. Do you want them to fill out a form? Call a customer service rep? Provide a piece of contact information? Subscribe to a newsletter or follow a social channel? Get with your UX team to map out a website journey that ultimately leads to a conversion – those bits of personal information voluntarily shared.
amaze + astonish
Put thought into your website's user journey. Use personalized CTA's throughout the site to move them from Awareness to Consideration.
For example, take a blog post. The blog should have internal links to a service page that's related to what the user has just read. In this situation, they've seen your thought leadership, and a service page presents an opportunity for the visitor to consider taking advantage of your services. A CTA on this page could be "Let's talk about how we can execute ___ service for you."
Another example: From the menu of services/capabilities page, the user should be ushered to another page on site that explains the problem each specific service solves. In this situation, case studies and client work demonstrate expertise and experience. The next step on a page like this could be downloading an e-book with deep-dive case studies. From the case study/social proof pages, the user should be led to take immediate action – they're already considering the value of working with you.
what comes next?
Leap Group is a HubSpot partner. And one of the benefits of using a platform like HubSpot is the ability to create landing pages, publishing content and optimizing each part of the conversion path.

Inbound marketers recognize the paramount need to convert qualified site visitors into leads by offering engaging content that encourages visitors to give up their contact information, creating an opportunity to turn visitors into leads and leads into sales. A robust CRM and marketing platform like HubSpot can simplify developing conversion paths.
An effective CRM like HubSpot includes tools for lead scoring, email and social management, personalization, creating landing pages and analytics. This tool will allow you to effectuate multi-channel lead nurturing techniques, combining email marketing, marketing automation, social media, paid retargeting, dynamic website content and sales outreach.
Setting up the CRM properly is an investment well worth making. Contacts need to be created with relevant data beyond name and email. Append contacts with relevant data that will help build lists later. This includes:
– Industry
– Job Title
– Social Handles
– Sales Lifecycle Status
– Mailing Address
– Revenue
– Employee Count
With this information, you can also set up lead scoring to better understand where your leads are in the sales lifecycle. Lead scoring includes both passive attributes (one's industry, job title, company revenue, location, etc.) as well as actions a lead takes (number of site visits, forms filled out, ads clicked, content downloads, etc.) If you have integrated your CRM with your website, the CRM should use these attributes to provide a weighted score for each lead.
All of these tools are in service of nurturing the leads you've generated.
forget the sales funnel. we want a lifecycle.
Forget the old sales funnels that tried to make sense of customer journeys. Anymore, conceptualizing leads moving through a customer lifecycle is much more useful. The lifecycle is not as linear as a funnel. As c customer searches for a solution, considering you and your competition, they can move forwards or backward through the lifecycle, or loop through again after purchase.
There are a few defined stages of the lifecycle that customers will move through on the way to a purchase/decision and then toward loyalty and repeat purchases.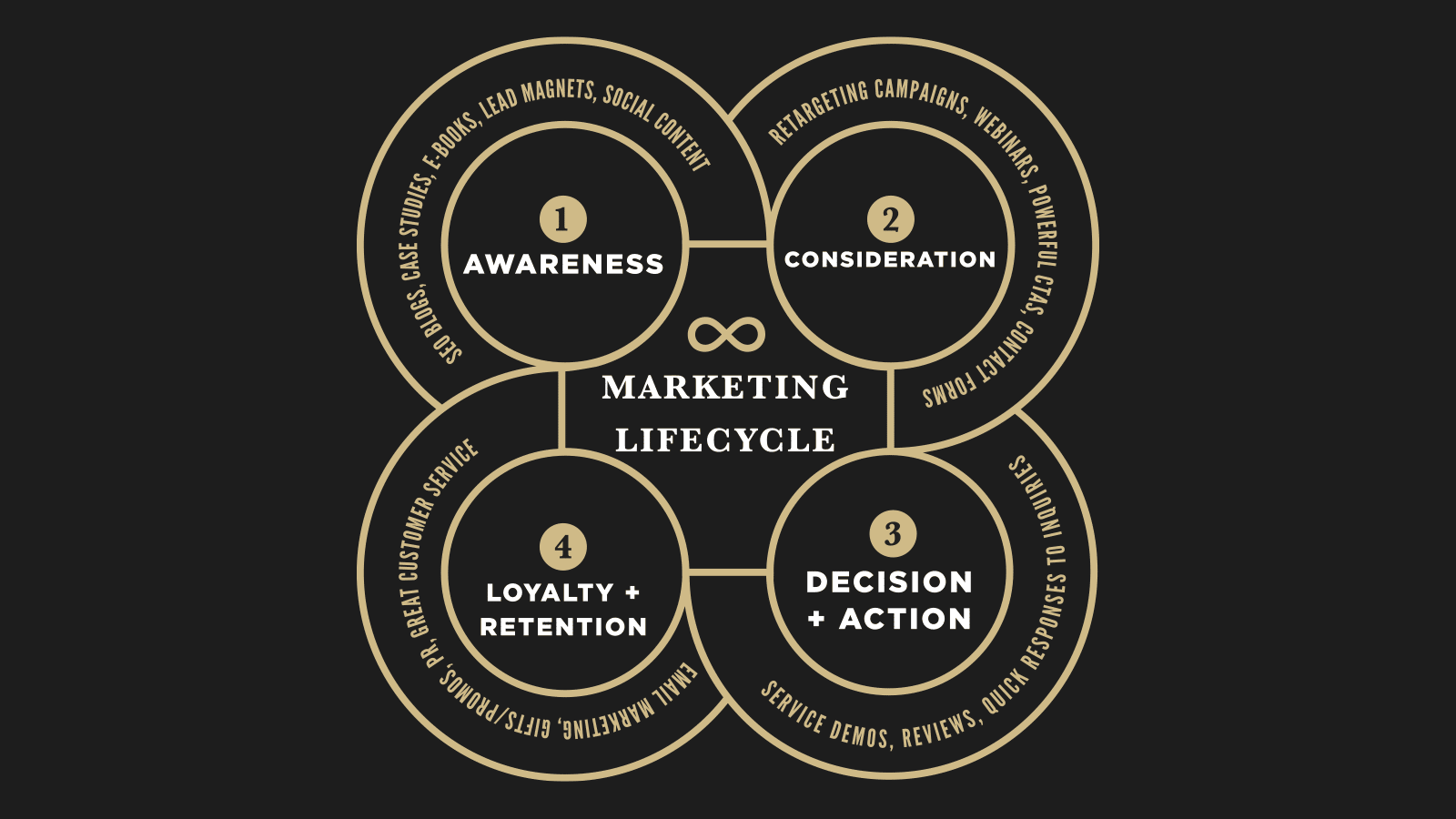 Using your CRM effectively will help manage leads at any stage within the lifecycle – from content management to tracking site activity, to follow-up content, to documenting communication, to contact forms and chatbots, to customer service.
make them come back
The key to maximizing your lead generation efforts is putting together an effective lead nurturing strategy. According to MarketingSherpa, 79% percent of marketing leads never convert to sales. Why? Often a huge amount of effort is put into lead generation, but significantly less effort is put into nurturing those leads over time.
The process of traditional campaigns is to simply send the same content and use the same messaging for everyone in a given lead list.
Lead nurturing is the process of developing relationships with your leads/customers at every stage of the sales lifecycle, and along every step of the buyer's journey.
To do this, brands must know their leads and use content to garner their trust to ultimately convert.
According to 2019 data from Demand Gen Report, the benefits of a lead nurturing program is the ability to generate warmer sales-ready leads, leads moving faster through the pipeline, and a better response to campaigns due to targeting/relevance. Two-thirds of respondents saw a measurable difference in the results of their nurtured leads versus non-nurtured leads.
---
Website lead generation strategies are constantly evolving as marketing and website trends shift and customer buying habits change. And this landscape requires marketers to be vigilant. Leap Group helps clients build lead generation sites with conversation rate optimization, analytics + measurement, and lead scoring.