Creating Engaging Content Untraditionally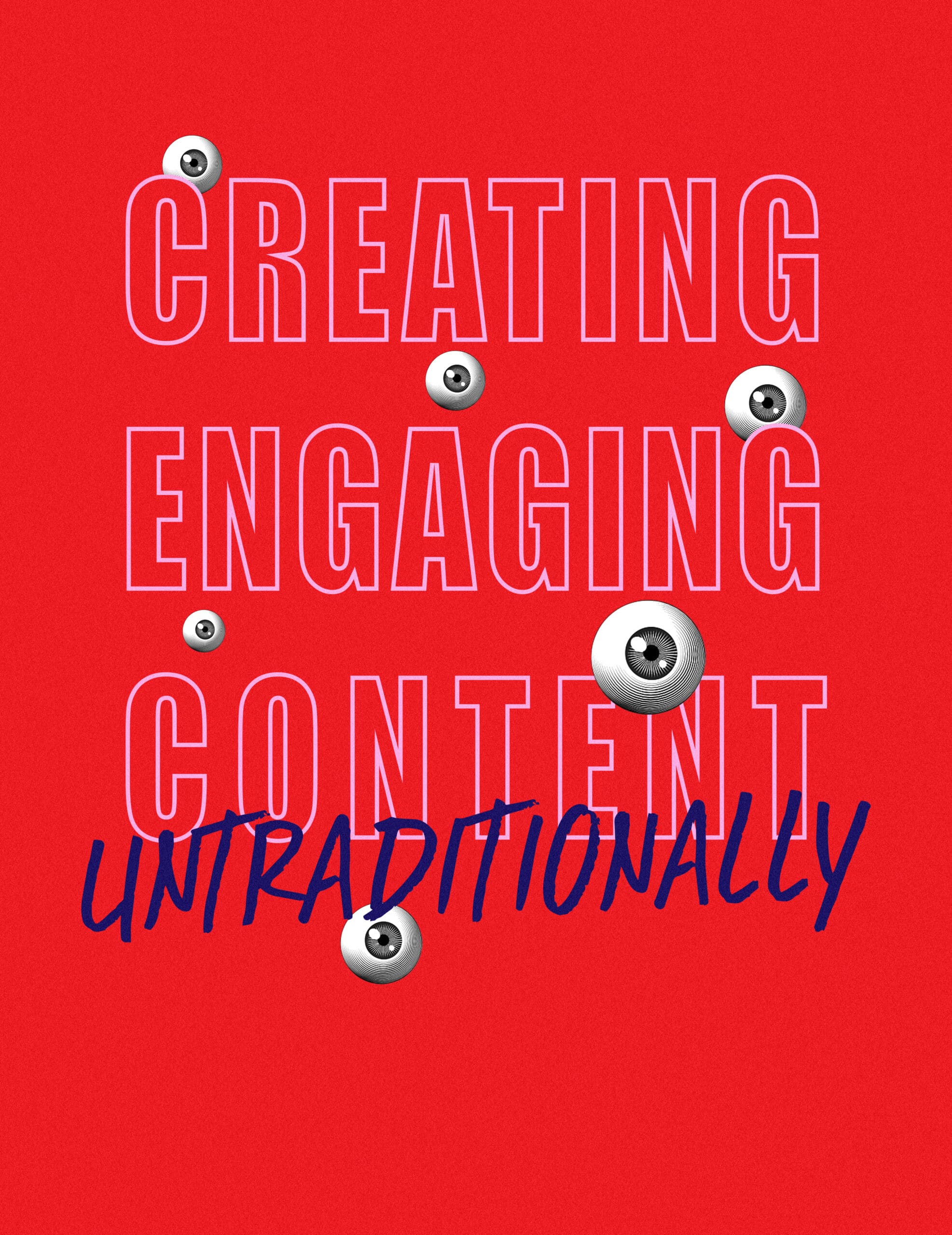 As the nation was forced into quarantine due to the onset of COVID-19, everyone began doubling down on their digital strategy.
The competition for user's attention became even more competitive as entertainment options became limited to what you could enjoy at home.
But consumers soon saw all of the same messaging and content from brands. Words like "unprecedented time" "business as usual" just became noise through soft background music. But through all of the noise, three content trends have risen to the top. Some being spurred on by quarantine and some building upon success it already had.
---
livestreaming on social
When livestreaming first burst onto the social scene through platforms like Meerkat and Periscope, it burned bright for a moment, but then faded into the background.
Giving everyone with a smartphone the ability to literally stream video anytime, any place was extremely compelling. However, with high-value video production being the priority for many brands, the raw ¾ and sometimes unreliability ¾ of livestreaming made it difficult for many marketers to find a place for it in their marketing mix, outside of tradeshows or conferences.
All it took was forced stay at home orders and social distancing rules for brands to loosen the reins on production value and dive back into livestreaming on social.
According to Charles Porch, head of global partnerships at Instagram, livestreaming has exploded on Instagram with a 70% increase in viewership in April alone.
And this livestreaming renaissance is not unique to one industry. Fashion, fitness, food, music, even alcohol brands ¾ industries across the board are getting in on the action.
Fitness instructors from both big brands like Nike and Under Armor to your local yoga teacher are using livestreaming to teach virtual classes. Chefs and bartenders are using it to put on cooking and cocktail demonstrations.
Musicians who have can't bring their music to people in a concert environment are putting on shows of their own or partnering with brands to hold mini-concerts.
Livestreaming is showing us that in desperate times, viewers do not need the most premium production value and they accept the rawness and occasional technical difficulties that come with the territory.
It has also proven to be a viable way to increase your following. Lively, a women's apparel brand, saw a 140% increase in their Instagram following after the first week of livestreaming.
Hot tip: Hosting a livestream with an influencer has proven to be an effective strategy for connecting directly with a new audience in a more authentic way.
will it last?
I'm expecting we will see this surge taper off as the world begins to open back up. As people begin to feel more comfortable going out, they will want to experience what they've missed under quarantine, rather than more screen time.
But don't expect to see it disappear completely. There are brands that have found enough success in livestreaming, it will be added into their marketing mix ongoing. It may not make up the biggest slice of the pie, but it will still get a piece.
virtual tour experiences
Over the past few months, our network has seen a rise in "virtual experience" invitations. Like livestreaming, the technology that enables virtual experiences has been around for a while, but has seen a rise due to COVID-19.
Places that would typically be experienced in person, like conferences and concerts, and have suffered from quarantimes have adapted to bring their attractions to their consumers, digitally.
Two big winners from these virtual tours are national parks and museums. Google created amazing tours of several national parks across the U.S. Including locations in Alaska, Hawaii, New Mexico, Utah and Florida. Allowing people to explore nature's beauty from the comfort and socially distant safety of their own home.
Google are Museum Views takes users inside the Van Goh in Amsterdam, the Guggenheim and the British Museum in London.
will It last?
This one might be harder to see continued use moving into the future. These types of experiences are all things that, on some level, are incomplete with physical interaction.
They could see a shift in the intention of usage. In the future, users could interact with them similar to an online review or demo. Using the virtual tour to compare a few national parks or museums against each other before booking a trip.
original sound on tiktok
Without a doubt, by now you have heard of TikTok. Over the last year, it has started to make itself a fixture in the social media scene. Already boasting a large user base, the outbreak of COVID-19 only served to stoke the fire. In the first 23 days of March alone as quarantine was settling in TikTok saw a 27% increase in app downloads.
At its core, TikTok is a platform to help people make and share video clips synced to music. And it has quickly become the home of viral memes, dance challenges and much more.
There is a large library of licensed music that users can access and add to their videos. It allows you to add your own original sound to the app, as well. Of course, the original sound piece has been hacked by users that are utilizing a separate device to play sound. By doing this, TikTok-ers are recording brief snippets of additional music, jingles, etc.
One unintentional beneficiary of this hack has been Home Depot, whose theme song was added to TikTok by this method and has since spawned its own array of memes. Over 18,000 videos have been created using The Home Depot beat, causing 65.8 million views on the hashtag #homedepot, all to the Home Depot jingle and using completely unpaid promotion.
When people talk about earned media attention, this is exactly the dream scenario.
will it last?
TikTok was strong before quarantine, and it will remain strong after. This new social media is here to stay and still an untapped area for many brands.
If one common thread can be identified between all these forms of content, it's connection. Quarantine or not, human beings are always craving connection.
---
Live steaming gave people the ability to connect with their favorite people in arguably a more intimate way. Virtual experience allowed people to connect with places in the world they may never travel to and original sound on TikTok allows people to connect through in perhaps the most genuine way, participation.