Does Your Social Media Content Suck?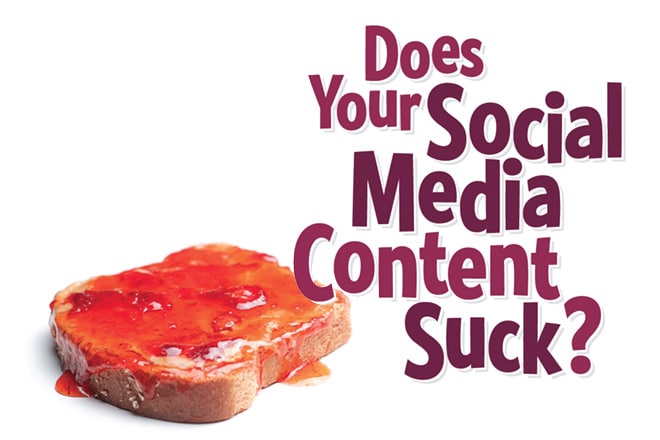 We say it all the time around the LFI office: Content is King. And as one of our agency's social media gurus, I say with full confidence that this mantra is true, especially when it comes to social media.
Good content is what helps brands get more followers and fans. Good content is what will increase follower loyalty to your page. Good content gets your brand noticed by social media professionals and aficionados.
Yeah, it's that powerful.
But, it's just as important to keep from having content that, well, sucks.
We see it all the time. That brand that just can't seem to put out engaging content for its social properties. It's unfortunate, but we all see it so often that our hand subconsciously propels our mouse toward the dreaded "Unlike" button.
So, what exactly is bad content?
CONTENT THAT ONLY TALKS ABOUT "ME, MYSELF, AND I"
Social Media is about blatant self-promotion, right?
Wrong. And if you think that way, your content probably sucks. Why? Social media is about creating a community. If you're just talking about how great you are, suddenly, you become that "person" at the party who brags too much about themselves. The result? I'll go talk to someone else at the party.
Realize, too, that social media properties are a place that praises sharing, not blaring. Sure, you can talk about yourself in moderation, but when you do, make sure the content is engaging, like a link to your corporate blog, photos that depict company culture, or a link to an article or site that your audience may find appealing or really informative.
Lesson learned: It's not all about you. Not. At. All.
AUTOMATION STATION
Using a messaging platform to automate all my social activity is totally fine. After all, who has time to get on all those social channels every day?
You do. And, if you don't, you should make time. If this is your point-of-view on handling the channels, your content probably sucks (or, at least, is really, really impersonal).
Think of automated posts as a supplement, not an entire strategy. While it's acceptable for posting at inopportune times for your brand manager (like vacations, long meetings, or weekends), it should not be how you're posting all your content. Why?
The worst part about post automation is that it takes away from the whole point of social media. It should be social. Think of social media as a pot-luck dinner. Scheduling posts is almost like sending your dish to the party through a friend (so you've contributed), and expecting to form relationships with people at the event when you're not really there. It just doesn't happen.
Using social posting tools alone does not allow brands or users to get involved in relevant conversations. You'll never have a true grip on what's going on in your social spaces. Plus, to your fans, it just seems insincere.
Social media practitioners should try to post manually to Facebook and Google+ at a minimum, partially because most third-party APIs provide a dead giveaway that you've scheduled the post (for reference, posts made by Hootsuite's free version say on every post "via Hootsuite"). Twitter has more flexibility. Scheduling these posts can keep the quick flow going, but throughout the day, there still needs to be a human touch to Twitter through retweets, replies, and mentions.
QUANTITY OVER QUALITY
Posting content (no matter what it is) a dozen times a day will keep us in our fans' feeds, and will lead to more likes, right?
Not necessarily the case. It could even cause the opposite: your page could seem spammy, motivating people to head straight for the "unlike" button. Yes, you should be posting regularly everyday, but you shouldn't be posting content for content's sake. With everything you post, you should keep two things in mind:
First, is the content "Shareable"? If the content you are posting is static, boring, or flat, you'll not only get no engagement, but you'll also have a harder time building your fan base or, more importantly, brand advocates.
Will anyone care about the content you're posting? Take a minute to really think about who will care about a post you are making. If you can't think of people who would care, don't post it. You know why. Because it sucks.
Instead, strive to post quality content. Captivating content. Engaging content. And if you want to introduce new kinds of content (such as polls, links to infographics, etc.), there is no harm in testing that content with your audience. But if your engagement takes a hit or people just don't seem to dig it, there's a simple answer. Just don't post it any more. If a new form of content shines, though, the audience has spoken. Work that type of content into your social media plan.
Brand Voice? Who Needs That?
Everyone. Everyone needs that. If you don't have one, your content probably sucks.
Every brand has a personality. Take, for example, Oreo. Oreo cookies are about fun. They're about nostalgia. And their brand's Facebook page shows that. From the types of content they post, to the contests they run, to the way they speak on the page, you feel as if you're getting to know the brand every time you view the page. They've captured something that's so important on their page: their brand's essence. That's probably why the sandwich cookie's page has 27 million likes.
Your voice and content should vary across channels, too. Each social channel should develop a unique and strong voice that is appropriate for the types of conversations you'll be having on the channels. Let's bring back the party analogy. At a family picnic, you don't give your great aunt a sales pitch. Why? It's not the place for that type of hard sell.
How can you determine if your social media content sucks?
Take a hard, brutal look when you answer these three questions:
1) Will it help someone learn something? Will it solve a problem? Will it engage their emotions? No to all three? Well, we suggest you find that useful, problem- solving, or engaging content that is, most of the time, not about your newest product.
2) Would you, as an individual, take time out of your Saturday afternoon to read/video/ engage with your content (i.e. Facebook update, YouTube video, Tweet, blog posting, etc.)? If your content doesn't answer "yes" to this simple question, it probably sucks.
3) Are you writing your content for the reader… or someone else? If you aren't writing for your followers, who is your intended reader/ beneficiary of content? A partner whom you owe a favor, perhaps? While giving props is okay from time to time, don't let your content become a megaphone for promoting other people. If it is, your content, safely to say, sucks.
Think of Facebook as that backyard family barbecue. The conversation should be light and engaging. Information should be shared. Most of all it's a place to develop deeper relationships with those you love. Brands should treat this network as a family barbecue, not talking about themselves too much, doing a whole lot of listening, and keeping the vibe happy and engaged.
So, if Facebook is a friendly backyard BBQ, what's Twitter? We'll compare Twitter to a cocktail party. At a cocktail party, there's a lot of noise, and to talk to the right people, you have to have interesting things to say. Even though relationship building is important at such an event, it's not uncommon to also talk business or exchange cards. So, on Twitter, there is room for a little more brand promotion. Notice, though, we only said a little more.
Talking about your company, job openings, sales opportunities, and more is expected and accepted on LinkedIn. If your brand has a presence on this channel, this is the place to do a little more self-promotion. LinkedIn is also a great place to position your brand as a subject-matter expert. Posting articles related to your field (or even your own published works), can be a great supplement to this channel.
While many consider Google+ a barren wasteland, believe us, there are people on the site paying attention to what brands are saying. And while it may not have the same influence as Facebook, it does add value to search and SEO. Your voice on the channel? Treat Google+ as a place that has the relationship-building feel of Facebook, the fast pace of Twitter, and the professionalism of LinkedIn. Whatever approach you do decide to take, though, try to be consistent.
Who Needs Visuals? Aren't Words Enough?
No. They're not.
Social Media is evolving. Thanks, in part, to the rise of Pinterest over the past two years, social media participants are not only expecting, but demanding visuals. And for brands, that means taking the time and resources to create meaningful visuals for your brand to use throughout the channels.
Study after study has shown that the most "shareable" content on all the channels is visually driven. Photos take the cake on Facebook, with videos as a close second. When your content is shared on such a channel, your reach extends dramatically, introducing your brand to a new audience.
The power of visuals on Facebook has been especially apparent since the crossover to Facebook Timeline. Because of the new organization, images now have a place to shine on the page, drawing visitors down the page, and to even more of your content. When you have captivating images that resound with your audience, it can be magic.
Take Bud Light, for example. The brand's page doesn't just have 4 million fans. They have 4 million highly engaged fans. A picture of a beach sunset, Bud Light bottle in foreground, garnered 43,000 "Likes", 3,000 comments, and 2,000 shares. They know what their audience likes, and they give them content to not only interact with, but to share.
Sometimes, bad content happens to good brands. But we're here to tell you your content doesn't have to suck. Just keep one thing in mind: your fans. Give them content that they can use, that they can learn from. Provide those who take time to come to your page with something that won't waste their time.
And most of all, give them something that doesn't suck.
Brand pages whose content doesn't suck.
Starbucks has been a major player in the social media scene for years, and their 31 million+ users shows that they are doing something right. From frequent engaging posts to hosting an annual "Pumpkin Spice Latte Challenge" on Facebook, they incentivize their audience to not only like, but follow (and, in the end, participate with their brand).
Red Bull posts amazing content on their Facebook page daily. And their short, but sweet, posts and engagement opportunities leave users coming back to the page daily to see this top- notch content.
Oreo's social properties, especially Facebook, are a celebration of its fans. From its daily cover photo change, featuring one fan's birthday in a big way, to posting witty content that drives likes and comments, this cookie takes the cake in social media engagement.