Don't Sleep on These Search Engines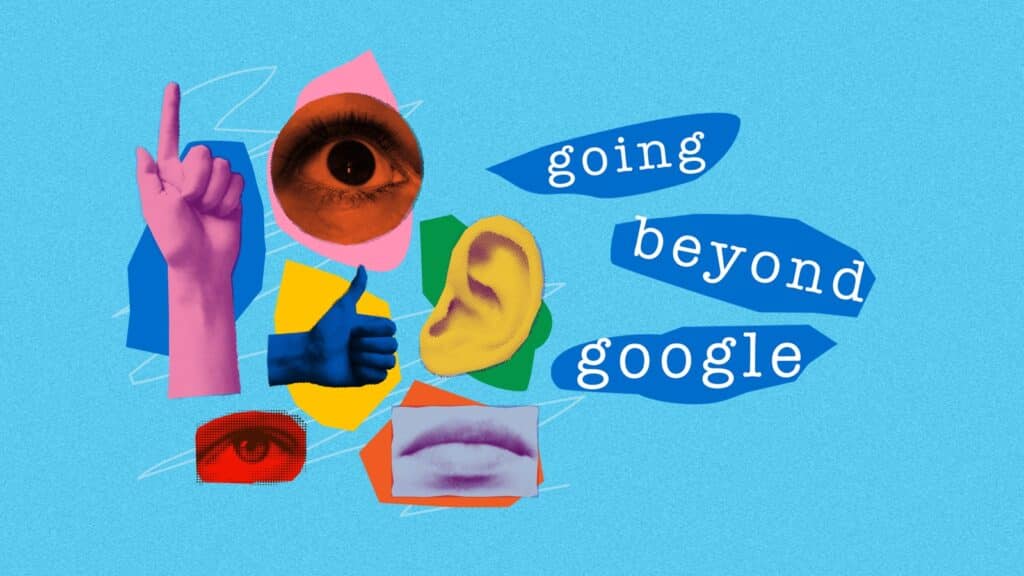 Google has become synonymous with searching for and finding answers. But it's not the only place you can be found. Here are four other search engine platforms you shouldn't underestimate:
Google Images
Users are served images related to a keyword. Google use a combination of the metadata related to the image AND the content behind the image (i.e. landing page content) when choosing images for results pages.
DuckDuckGo
Privacy is the main concern for DuckDuckGo. The search engine prides itself on not tracking IP addresses or user history. They also use over 400 sources to gather results for user searches in addition to its own web crawler. You're not able to submit your URL for faster crawling results in DuckDuckGo so it's important to utilize linking as a tactic to be recognized by crawlers quicker. 
Microsoft Bing
Yahoo's competition to Google's Search Engine, Bing, serves results based on keywords, whether typed…or spoken. Bing is the primary search engine is used to answer queries from Amazon's Alexa and Siri.
YouTube
We all know YouTube and its power as the largest video creation platform, but really – it's a search engine that serves videos based on queries. Optimizing your SEO on YouTube mainly comes down to keywords and audience engagement. Keywords are used by YouTube to match users searches to related content. Audience engagement is the measurement of a video's success according to the viewers. Engagement metrics include likes/dislikes, comments, average watch time, CTR and more. 
| | | | | |
| --- | --- | --- | --- | --- |
| | | | | |
| Audience Insights | Google processes about 2 trillion searches per year, of those 2 trillion, 400 billion are for images. That number alone shows the opportunity for growing your business through image SEO. | According to DuckDuckGo, 24 billion searches were conducted on the platform in 2020. This is an approximate increase of 57% from 2019. Many of DuckDuckGo's users are conscious of their security and typically take interest in technology news. | This diagram shows the volume of users that are not reached by Google and prefer Bing and Yahoo search instead. Sorting by industry shows where Bing searches are more prevalent, like the auto and Business & Finance industry. [find/Insert graphic] | YouTube's reach and impact is massive. 1.3 billion people use YouTube, almost 5 billion videos are watched every day, 80% of YouTube views are from outside the U.S, and YouTube overall or even YouTube mobile reaches more 18–49-year-olds than any cable network in the U.S.  |
| Why It Matters | Google Images is essentially the second largest search engine. Images can maximize brand impressions (visuals are processed 600,000x faster than text) and drive engagements (40% respond to visual information better than plain text).    | DuckDuckGo has always had security in mind for its users. It wouldn't be out of the blue for DDG to see an increased number of users in the coming years seeing that data security has started to become a critical factor for many internet users.   | Bing makes up 21.3% of search engine market share (this includes Yahoo results).  |   Video is by far the most consumed form of media in the world. A study by Interdigital, Inc. Reports that by 2022, video will account for 82% of internet traffic. Right now, YouTube is a top contributor to the internet's video ecosystem and it's important to try and stay competitive on the platform.   |
| Noteworthy Features | New features like captions, prominent badges and amp results offer for more keyword optimization. | While DuckDuckGo refrains from knowing the exact location of its users, they are still able to get approximate location based off of users search query. DDG also allows users to utilize their search engine as an extension on other web browsers, like chrome | Bing powers web search on Siri for your iPhone and Amazon Alexa. This presents potential for optimizing SEO around voice search patterns. | While many of YouTube's viewers are directly searching and browning content within the site, videos also see increased traffic from outside search engines like Google. Optimizing videos to be served on the results page as a SERP feature can be a great way to increase views. |