eCom Channel Wars: The Unique Tactical Advantages of Each of the Big Four eCommerce Channels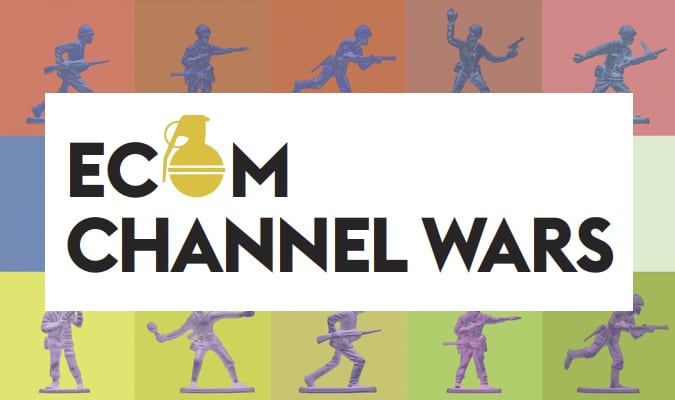 THE BIG GUNS – GOOGLE
eCommerce with Google Product Listing Ads (PLAs) is digital advertising with text and images that are designed to bring targeted visitors to your site where they will hopefully complete a purchase. Google PLAs differ from traditional SEM or PPC ads as they have images and are found in the search results page. Google PLAs are found in both a traditional Google search and Google Shopping.
Google PLAs include images at the top of the first page of search results. Because of this, PLAs generally have higher click through rates and can lead directly into the sales funnel on a specific product page, rather than a landing page. PLAs are also available on Bing and soon will be offered on Yahoo!
The downside of PLAs on Google is the data quality of product feeds, which are challenging even with third-party software. Another drawback is the competition, which is tough. Due to the size and sheer number of searches and impressions, eCommerce marketing budgets typically start with Google, since it's the largest market. Competition is toughest on Google so landing pages and A/B testing are essential.
JUNGLE AMBUSH – AMAZON
Amazon has an online marketplace for third-party sellers to list products and sell directly to consumers. Fulfillment is also an option with Amazon, who has distribution facilities across the US and globally for quick delivery. Much like eBay, Amazon has a rating system for sellers based on feedback from buyers. Limited ability to perform A/B testing for optimizing the checkout process and page load times preceding and during checkout are drawbacks of an Amazon web store.
BIDDING WARS – EBAY
Another large and growing eCommerce market is eBay, with millions of auctions for individual products and total revenue of $14.03B in 2012. An eBay store allows online vendors to list products for sale in timed auctions or at a set price with the "Buy it Now" option. Two comforting features of eBay are the credibility of sellers with a rating system adopted by most users and a third-party (eBay) that protects buyers and sellers. eBay collects fees on listings and a percentage of the final sale price.
SOCIAL WARFARE – FACEBOOK
Facebook is a rapidly growing market and the newest of the four big eCommerce channels. Facebook's benefits are the size of the audience and the average time they spend on the site. Custom Facebook Tabs are a new channel for eCommerce and can be used to direct visitors away from Facebook to an online merchant or to complete a purchase directly from the tab.
The best use of an eCommerce budget is a well managed, mixed strategy with testing to see where prospective buyers are visiting to research and buy. Google Analytics provides excellent data for eCommerce, which can be utilized for testing and driving incremental revenue through eCommerce channels.