eCom Systems: 5 Key Components to Consider When Choosing Your eCommerce System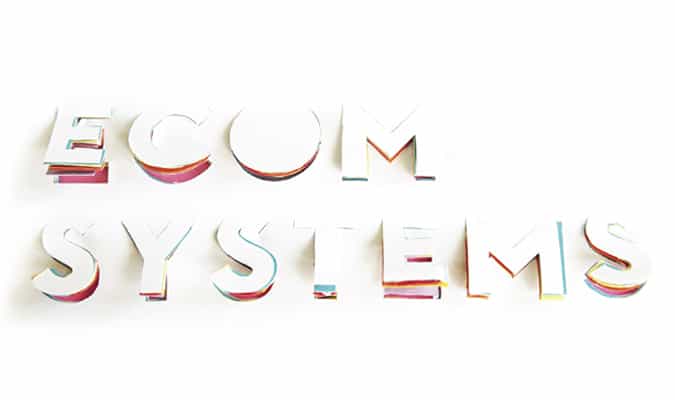 The eCommerce system market is extremely competitive. When everyone tells you they are the best, who do you go with? I've selected a few items that should be on the top of your list when exploring the vast world of eCommerce options. Are there other things to consider? Absolutely. Every company has a different set of needs. For instance, if you need to sell in China, multi-language should be at the top of your company's attributes list. If you go to any eCommerce site, they will list about 100 different attributes that their system can and can't do. I, however, have tried to identify five key components that everyone should consider when reviewing an eCommerce system.



1. HOSTED VS. NON-HOSTED

For purposes of this section let us refer to the "big box" one size fits all type of systems (the SharePoint of the eCom world) as hosted systems. Customizable eCommerce systems are typically described as non-hosted eCommerce systems.

POSITIVES OF HOSTED

A hosted eCommerce solution is similar to the WordPress of the eCommerce world. These systems are made to be easyto- use, template-based, setup is quick and gets you out and selling your product within hours. You can pay by the month and plans are typically very cheap and can be found as low as $50-$5,000 a month. Another perk is that there is no license renewal involved. If the system gets a big update and 15 new features are available, you get them for free. No need to worry about licensing in this situation as it is all included. For small businesses, hosted definitely has a lot of advantages.

NEGATIVES OF HOSTED

While these positives may sound great, there are also a lot of drawbacks that come with hosted solutions. One of the biggest drawbacks is that these sites are very template-based. If you want a complex or custom design, these systems are extremely limited in what you can do from a site experience standpoint. Another drawback is that these sites will have "slow-periods" at times.

POSITIVES OF NON-HOSTED

A non-hosted system gives the owner the control. Typically you can sell as many products as you want, the licenses are paid for up front so surcharges are avoided, and you can customize the site the way you want it to run. For large companies, this is where you want to be. Customization is imperative for large businesses. Larger companies have much more complex processes. With these complex processes, they never fit in the "one-size-fits-all" box.

NEGATIVES OF NON-HOSTED

The customizations typically require developers. As with all customizations, these also are time consuming so the site will not be up and running as fast as you might want in comparison to hosted solutions. An IT staff or hosting company will also be needed to manage hosting. The eCommerce licenses are not cheap either. They can range from $20,000-$100,000 and up. The licenses would have to be renewed every few years to keep up with the latest updates.



2. MARKETING AND ANALYTICS

eCommerce systems can come with a ton of built-in reporting and data to analyze. Using this data to your advantage should help you increase sales. Does your solution come with an abandon cart feature? Does it come with 5 reports or 25 reports? In this area, the more features and data you have at your fingertips the more successful your eCommerce solution is going to be.



3. SUPPORT

Support is a very important and very tricky thing to judge for an eCommerce solution but should definitely be part of the equation. Whether you have your own IT staff available or not, support from the solution provider will be needed. If a hosted solution's network is unreliable, your site may go down and users won't be able to purchase anything. Keep in mind that if a provider is only open M-F 8-5 and you launch Saturday at midnight and run into issues, will anyone be available to help you? Some companies only offer a forum to post issues and users must rely on a "community" to answer bug questions.



Being able to contact someone from your solution provider to work through your issues will give you the quickest turnaround. While this typically costs extra, this should not be overlooked in budgeting for your eCommerce system.



4. INTEGRATION CAPABILITIES

The biggest bang for your buck is if you can integrate with your existing software systems. Do you want your eCommerce system to pull info from your intranet/SharePoint installation? Third party marketing/reseller tools, Salesforce, CRM systems, Office 365 and Channel Advisor are all examples of popular software systems that can help your eCommerce system leverage additional information and vice versa. All of the major players have pre-built integrations, but each system has it's own set. If integrating with SharePoint is more important than integrating with your CRM, then that needs to be weighed into your decision. Also, if your solution is customizable you may be able to build your own integration, which is an added consideration in the hosted vs. non-hosted argument.



5. SCALABILITY

A key point to never overlook is being able to scale your solution as your business grows. If you believe you will forever remain a small to medium size business, then staying with the solutions that fit your company may be the best option. Some solution providers have less expensive versions of their software so as your company grows, your solution can grow with you. Everyone takes into account the needs of today, but you also have to think about where you might be in 3-5 years.