Evolving Technology Means Evolved Thinking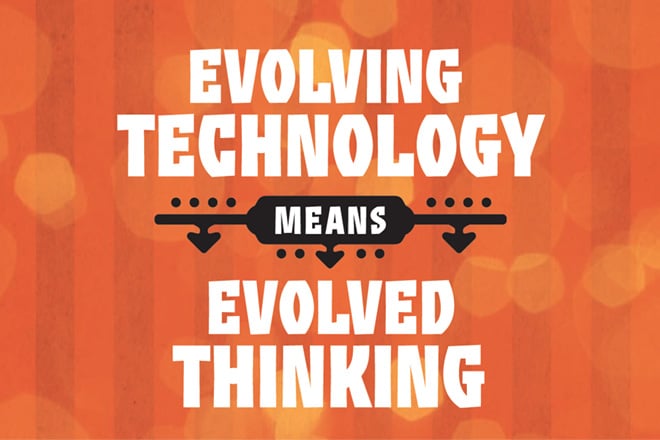 Technology is advancing, and there's no stopping it. There's no pause button, no slow-mo, no chance to scream "Hold on! Wait up!" And what's more, it's not just one technology that's evolving, but multiple technologies that are all converging to change the way we learn, consume, communicate — and eat.

Whether watching the breakneck speed of mobile phone evolution, the birth of practical tablet use, or the integration of online systems into television and personal interactions, it's easy to see that we're opening doors to greater efficiencies in our everyday lifestyles. But what does it all mean for the food industry? For restaurateurs?

Clearly, keeping up with the times is no longer a simple question of if they should start integrating technologies into their locations — but how.

When looking for innovative ways for technology to enhance your customers' experiences, it can be difficult to know where to start. Interactive menus, payment kiosks, in-line entertainment — there seem to be a slew of options available. One way to find the right tool for your business's needs, though, is to break down the restaurant experience into stages before digging deep to see where enhancements could be most effective.

Here are some avenues to consider:

• What's the first point of contact your customers have with your brand?

• Are there ways to get your customers started on the purchase process — through online reservations or online ordering — before they even reach your door?

• Can order time be reduced and order accuracy improved through advanced technology?

• Is there a method of pre-ordering (whether customers are at home, standing in line, waiting for a table, or sitting at a table) that makes sense for your restaurant?

• Is there a way to engage the customer or to begin the brand experience even when they're standing outside of your location?

• Pagers, hand-held order taking, clever entertainment in the waiting area — there are ways to let customers know they are high on your list of priorities, even if they're simply standing in line or waiting for a table.

• Is there a more efficient process that could help seat customers faster? Digital kiosks could allow your wait staff to update greeters on table progress and availability in a much quicker way.

• What technologies are available to make bill payment an easier process? Would any of these allow your customers to finish up quicker or let you turn tables faster?

• Aside from accepting cash, checks, debit cards and credit cards, merchants can now accept payment via mobile devices and interactive kiosks. How might these be adopted in your location?

A recent Cornell University study produced interesting findings regarding technology adoption in the food and beverage industry. According to the results, frequent restaurant-goers are more likely to be technophiles than technophobes. They're also more willing to accept technology early in the restaurant experience, like when first arriving to the restaurant or when waiting for a table, as opposed to later in the experience, like during the meal or with bill payment.

What's more, different demographics prefer different technologies, which makes understanding your customers all the more important. For instance, a customer base more apt to adopt mobile technologies would be more likely to adopt mobile payment tools. Customers favoring tablet technologies would be more likely to interact with touchscreen kiosks.

And possibly the most important finding for restaurant owners is that customers' perceived value of a new technology increases substantially after they've had a chance to use it. So, even though customers may seem resistant to these experiences at first, they may actually be going through the initial growing pains of learning (and loving) the advancements.

A commitment to enhancing the dining experience engenders truly innovative ways of rethinking customer interactions. Often, opportunities for such improvements can be found in the most obvious (and sometimes the most overlooked) places.

Hard Rock Cafe recently took an innovative approach to its dining surfaces by developing interactive tabletops with touchscreen capabilities. Now, customers can engage with a variety of music-based media throughout their meals. Similarly, Red Robin® Gourmet Burgers found a new way to engage customers as they wait for their tables. Aside from the wall hangings and décor that already reinforce the Red Robin brand, many locations now feature in-floor televisions so that patrons and small children can enjoy a new take on traditional entertainment.

As technology advances and continues converging, more and more innovations like these will begin appearing in restaurants across the country. Whether using a website to allow for online reservations and orders, interactive kiosks to allow for touchscreen orders and games, or mobile payment structures, the tools are there for restaurateurs to create fully integrated brand experiences.