Financial Brands Making the Most of New Technologies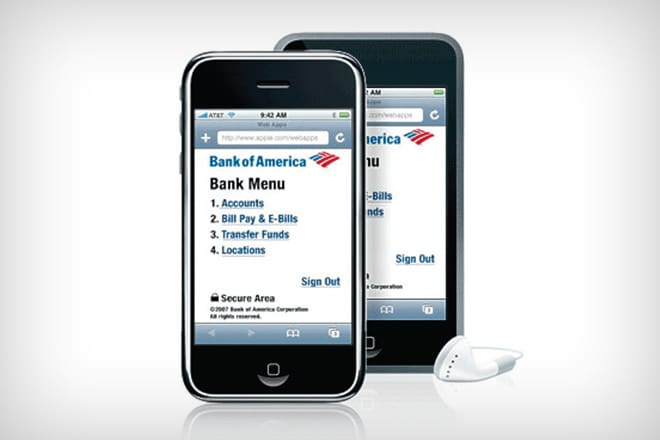 In 2010, financial institutions will focus their efforts on adding value to their consumers' online brand experiences in the next digital frontier: mobile.



While mobile devices have been able to access the Internet to some degree for years, the average online experience for early users was ranked from poor to down right awful. The iPhone changed all that by putting an intuitive, robust, desktop-like web experience in the hands of consumers. This did wonders for the state of the art, as almost every major mobile phone provider either offers, or will soon offer a similar experience on their devices. Creating fully featured web browsers has been the key to delivering the full value of the Internet to our mobile devices. Companies have begun to

realize, though, that the greater the rate of adoption for these mobile devices, the more likely it is for an enjoyable mobile experience to move from differentiator to base expectation in the eyes of the consumer.



Financial institutions long ago realized the value of providing their consumers with the ability to access and manipulate information online. While specific industries in the financial vertical provide their users with tools that are specific to their products and services, the offerings all allow users to access information about and exert control over their finances. Today, consumers see these types of features as par for the course. Tech-savvy consumers are far less likely to even consider doing business online with a company that doesn't offer these industry standards, and this is likely to be the attitude toward mobile offerings in the future.



Mobile offerings from financial institutions generally come in the form of SMS text messages, websites optimized for mobile platforms, or fully developed, device-specific applications. Each of these options presents unique opportunities and challenges:




SMS NOTIFICATIONS



Text messages are a great way to provide users with quick tidbits of timely information about their accounts. Text messages are unobtrusive, require no initializing action on the part of the user, and can provide relevant information almost instantly. However,

companies must be careful when considering what types of information to send via text

message. Since mobile is still an emerging delivery mechanism, there is still much to understand about the security aspects of the medium, especially when considering that consumers don't think about their mobile devices the way they do about their computers (yet).



Text message interaction will become a gold standard in 2010. Some examples of relevant messages for the financial industry include:



+ Notification of account balance changes or large transactions.

+ Notification of approaching due dates.

+ Notification of completed trade orders and their outcomes.

+ Requests for trades to be made or orders to be placed.

+ Requests for funds to be transferred between accounts.




OPTIMIZED WEBSITES



Optimized websites allow a company to provide a concentrated experience to their users by providing only the features and information that a user may need while on the go. These interfaces are distilled by necessity due to the physical constraints of the mobile device's relatively small screen. Banks may offer a site that allows a user to view account history, initiate a funds transfer, and schedule online bill payments. Stock trading sites may allow users to get quick market snapshots, review the histories of their portfolios, and initiate trade orders. One downside to most optimized websites, though, is that they typically either greatly reduce or eliminate the ability to market additional products or services due to the medium's screen size limitations. On the

other hand, security remains intact because no information is stored on the mobile device directly, which reduces the concern raised by loss or theft of the device.




APPLICATIONS



Mobile applications are the newest way for companies to provide information and function to their users. They are small programs that users download and install on

their mobile devices. Security must be considered when developing mobile applications because these applications have the ability to download and store information on the device, making illicit activity more feasible with the theft or loss of the mobile device. Additionally, these applications are device specific, so an app written for the iPhone won't work on a Blackberry, etc.



Mobile applications can provide a better user experience beyond that of a mobile website by including powerful data analysis and visualization features, for example.

Mobile applications can also take advantage of the fact that mobile devices stay with users wherever they go, allowing for applications that target location-based services.

Financial institutions that offer mobile applications have yet to truly leverage the medium and deliver an experience that exceeds what is available through their mobile

optimized websites. In 2010, mobile applications will become more pervasive and will provide more utility to users (especially in investment-related fields). Organizations that

develop mobile applications in 2010 will have the opportunity to set the standard that all other organizations must follow.