Get Real on Snapchat | Amplifying your Brand in New Ways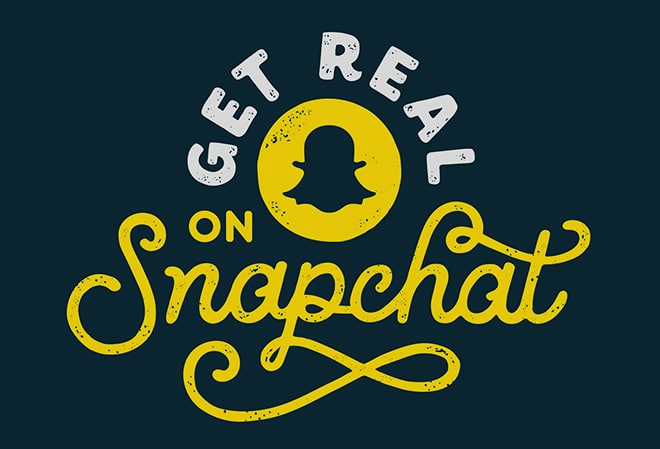 It's no surprise the photo and video-sharing app that has garnered close to 200 million users in just four years is growing at the speed of light. Snapchat, known as the new kid on the block in social media, has quickly and strategically turned into one of the most popular social networks in the world. Even more, it has evolved to meet the needs of users and brands alike
Snap Facts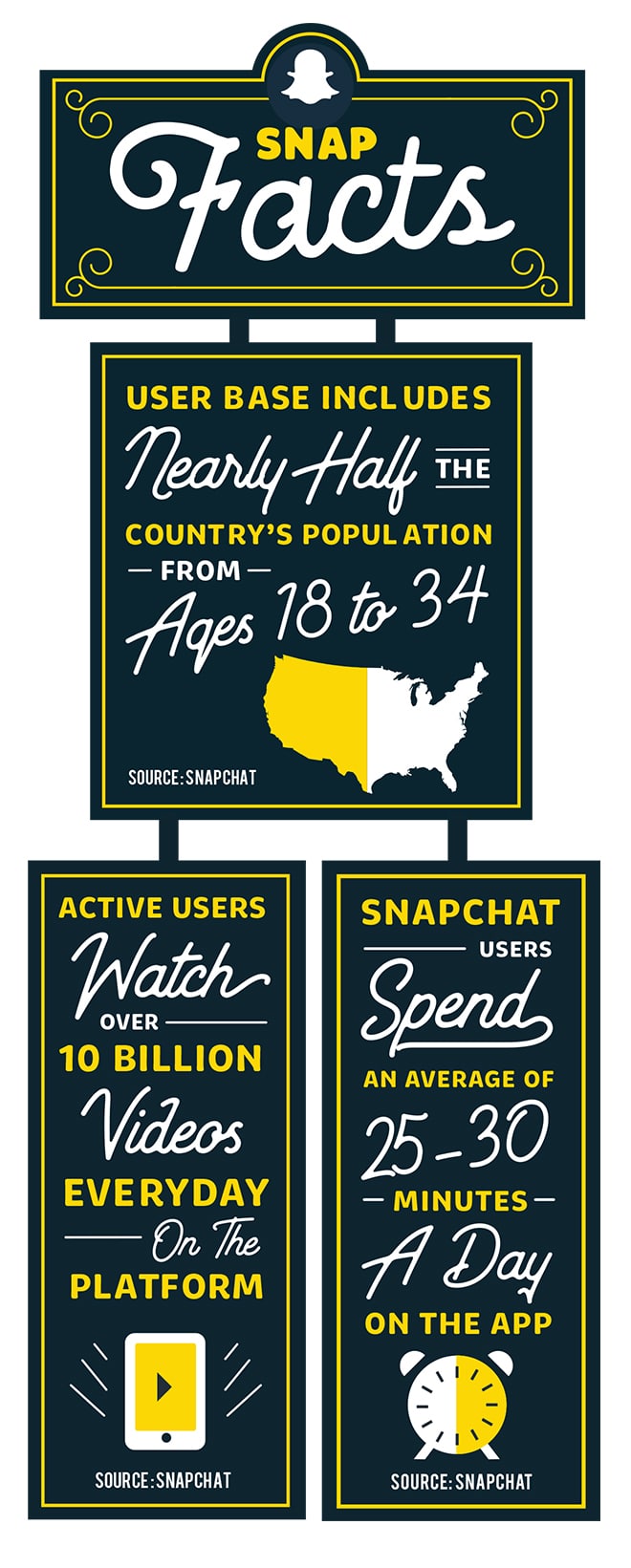 The platform is constantly updating and testing new ways for brands to connect with their users in an authentic and entertaining way, allowing it to seamlessly be integrated into the entire media ecosystem.
MediaScience surveyed 320 consumers, aged 16 to 56, which compared Snapchat video ads to those on TV, Facebook, Instagram and YouTube. They recorded and studied emotional responses, eye-tracking and exit surveys. MediaScience found Snapchat ads garnered twice the visual attention of Facebook, and 1.5 times more than Instagram. They were also 1.3 times more effective than YouTube. When compared to those platforms and TV, Snapchat claims that its ads generate greater emotional response and twice as much intent to purchase.
So how can your brand use Snapchat on the daily?
You don't have to jump straight into creating a profile or pushing ads, if it doesn't make sense for your brand. For many, influencer partnerships are a great way to authentically reach a niche audience without having to build a following on Snapchat yourself. Grab a notable influencer in your industry, provide them with a special offer to share only on Snapchat and see the results. There are so many great ways to target an audience here and get a return on your efforts — and that's just one of the many ideas.
Here are some core approaches many brands have seen success with:
Exclusive Offers:
– Exclusive Coupon Codes — Post a Snapchat-specific code to your story.
– Contests & Giveaways — Prompts users to "screenshot story" or "reply to story" to win.
– Games & Puzzles — "Snap us your answer to win!"
Customer Service:
– Allow customers to call and video chat brand representatives directly to ask questions and resolve issues.
– Provides a great opportunity to chat with potential customers and form a relationship.
Special Announcements:
– Product Launches — Tease new products to generate buzz.
– Behind the Scenes & Sneak Peeks — Give followers exclusive insight into what goes on behind the scenes.
– Event Coverage — Have a team member live-snap an event that's relevant to brand and audience.
Influencer Partnerships:
– Brand Ambassador Programs — Identify and work with on-brand influencers to use, mention, share your brand authentically in their content.
– Campaign Amplification — Utilize influencers to amplify contests, giveaways, offers and more.
Brand Success
Taco Bell has gone above and beyond keeping a constant presence organically with their Snapchat lens approach. On Cinco De Mayo, they launched a taco lens that is reported as the most successful Snapchat lens to date.
Birchbox has used the platform as a new way to put a face to their brand by taking personal calls through Snapchat to answer questions and talk to fans. Their team even had the opportunity to talk to nonsubscribers and gain more customers through real conversations.
Right now, there are ways to organically show up on Snapchat. But like all social platforms, it's crucial to be aware of the advertising options, features & benefits of utilizing them.
Here are the three, basic advertising options Snapchat currently offers:
1. In Story Ads – $
– What is it? — Short, video ads that appear between stories. These ads have the "swipe up" feature, which allows you to include a call to action.
– Why should you care? —Swipe Up rate is 5x higher than the average click-thru rate on other social platforms.
2. Geo Filters – $$
– What is it? — Custom-sponsored geofilters that can target a specific area and time or reach, nationally. Geofilters convey a message that will be an overlay to a user's photo or video after it's taken.
– Why should you care? —Geofilters allow you to reach a specific audience during a specific time and place.

3. Lenses – $$$:
– What is it? — Creatively-driven, interactive facial recognition image and video overlay. Allows users to experience a brand in a new way or find entertainment out of altering their face and voice.
– Why should you care? —Active users play with a lens for an average of 20 seconds. It's popular for users to save content using a lens and share it on other platforms (like Instagram.)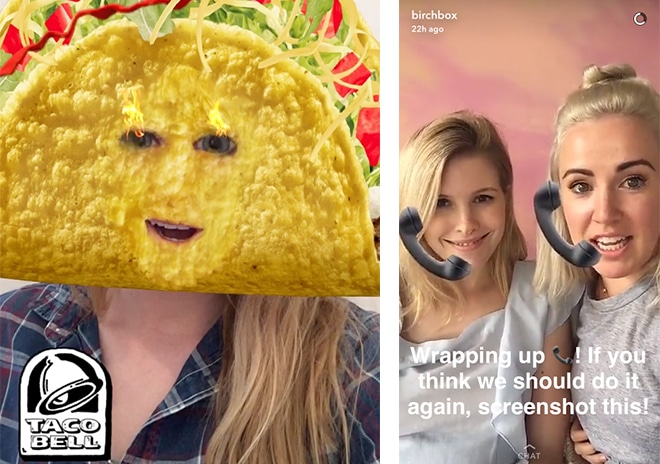 Snapchat is a casual environment, but that shouldn't be taken lightly. It's not the place for random posting with no social media game plan. Content that is strategically thought out to provide the most value to users will see the best results. Snapchat is a place to have some fun and create real connections with your audience — something that is much harder to do on other platforms. Here, you get to create a more interactive experience.
If you care about truly connecting with your audience, then you'll also care about the platforms that best resonate with them. Remember, authenticity will always win compared to polished sales-y content.