How Digital Are You, Really?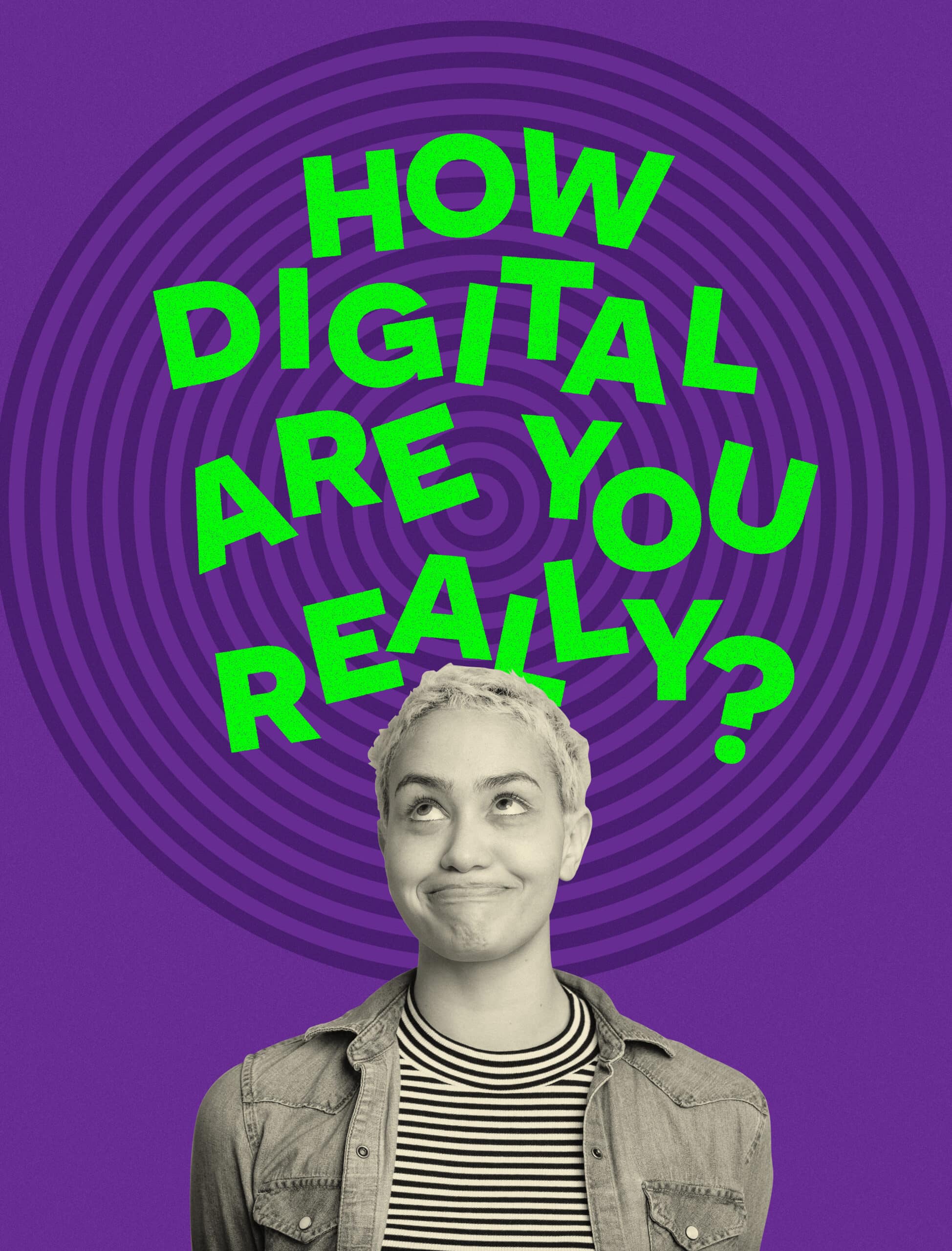 This past year, we experienced a new reality of teleworking and social distancing. While I faced my own transitional woes, mainly "Why did I ever take my two monitors at work granted?" the disruption of normalcy really put pressure on many of Leap Group's clients to evaluate, in real-time, how equipped they truly were to handle the immediate necessity to pivot to an online-only presence.
The need for a digital transformation has challenged brands with what they can do to move now ¾ and move fast.
To have some digital prowess may not be enough to best serve your consumers. We've created a digital scale to help your brand determine how you rank currently ¾ from a 1 to a 7 ¾ and what features can be added that best services your business and your brand.
---
1 – you still need a website.
While it's hard to believe, since websites are easier and cheaper to build today than ever, Industry Dive reports 40% of small businesses still do not have a website in 2020. The days of "word-of mouth" are dwindling, an in-store visits are dwindling just as rapidly.
SOLUTION:
A Facebook page is great but it's not enough. Determine the main purpose of your website, pick a domain name and, most importantly, call upon experts to build it and maintain it.
2 – you have a website, but it isn't responsive.
The development of innovative technology has moved at an accelerated rate, making it critical for clients to keep up with the changes and respond to their consumer's demands.
One of the most integral changes has been the increasing propensity of mobile/tablet device usage. Techjury said mobile market share worldwide is 52.1% compared to the desktop market share of 44%. This has increased over 10% in the last year alone. As a direct result of this increase in mobile behavior, consumers expect to be able to seamlessly transfer from one device to another without losing quality or consistency.
SOLUTION:
We always start by examining mobile traffic in Google Analytics to better understand which device(s) and operating systems are driving traffic to your website. From here, we can devise a mobile-centric strategy to ensure a consistent experience across all browsers and device types.
3 – you have a website. it looks good. but it's slow.
Nothing turns away a website visitor more than a landing page that takes entirely too long to load. In fact, Neil Patel reported 47% of consumers expect a web page to load in 2 seconds, or less.
Additionally, page loading time is now becoming an important ranking factor for SEO, according to Google's Webmaster Trends Analyst John Mueller. Google pre-announced (which they never "pre-announce," so you know it's a big deal) websites have until January 2021 to implement their Core Web Vitals metric in addition to existing criteria to better evaluate page experience.
SOLUTION:
Stay on top of algorithm updates. At the end of the day, websites that build a reputation and stay on Google's good side are more likely to rank higher via a simple search than those behind Google's algorithm changes.
Page speed is one of Google's over 200 ranking factors. To quickly evaluate your website's page speed performance, check out PageSpeed Insights, a free tool that tells your website load time, and gives it a score.
4 – you have a website. it's responsive. it looks good. it's fast. but riddled with technical seo errors.
At its core, Google and other search engines prioritize the sites they believe will provide the best experience to their users. Google's robots crawl and evaluate sites on numerous factors and rely on the technical aspects of a website to understand the results of the crawl.
Examples of technical errors include, but are not limited to, duplicate meta, title, and content, broken internal and external links, redirect chains and loops, and so on.
What we have found: Sometimes it is better to have no meta description at all than to have duplicates. We want to ensure Google is extremely clear on which page to display for a given query. And, oftentimes when presented with too many options, Google will display none and move onto the next brand with a clear result.
SOLUTION:
A monthly crawl and subsequent remediation are integral to a strong web experience.
5 – quality content is mission-critical.
A strong website is first rooted in a sound technical foundation couple with easy to read, relevant and engaging content.
Unfortunately, rarely anything other than your crockpot is "set it and forget it" anymore. This especially applies to the content on your website which is expected to be well researched, planned and strategically curated in order to be effective. CrazyEgg, a software we often use for website quality control, has found high quality website content promotes longer average session duration.
SOLUTION:
Here's a quick checklist we follow to help create content that is Google-friendly and user-friendly
Define the conversion goal.
Identify a relevant topic.
Research keywords.
Be personal.
Optimize, optimize, optimize.
6 – your tech stack might need a makeover.
Maybe you have a functioning website, but there's so much more to think about!
Digital marketing tools are being adoption at warp speed indicating companies are utilizing this time to play offense as opposed to defense.
The ability to adapt and nuance your tech stack in more important than ever to stay on top of the latest digital trends and best ways to reach your end user.
SOLUTION:
Start with a list. Identify what tools are in your box and start auditing for like features and functionalities and conversely uncover where the gaps are.
7 – Bridge the Offline to Online Gap
The majority of offline businesses have had to evaluate pivoting to online to keep up with ever-changing consumer needs. TA Digital recently found 63% of customers use their mobile phones for research and purchase, with 56% of them asking for a shared experience across all channels. Evaluate the following:
Data Management
CRM
Contact Free commerce
Payment Integration
Security
For our B2B brands that rely on tradeshows and exhibitions, digital marketplaces such as Amazon have helped retain existing customers and reach new ones.
SOLUTION:
Leverage advanced attribution modeling for our eCommerce and non-retail clients to implement successful digital measurement strategies for offline and online behavior.
---
Over the past few years, many businesses have expanded their digital prowess a decade forward in just a matter of months in order to keep up with what consumers are expecting and how they best engage with your brand.
We think of digital transformation much like we think of a home renovation project. No one is likely to renovate their entire home in one day – it would be far too expensive and time-consuming. Looking at a digital checklist one item at a time keeps things cost-effective and manageable from a timing standpoint. We task our clients in need of a transformation with the prioritization of a starting point, the first room in their house. Leveraging this analogy, we understand that starting this journey can oftentimes be the hardest part. Let us help.