How To Be Found: An SEM Perspective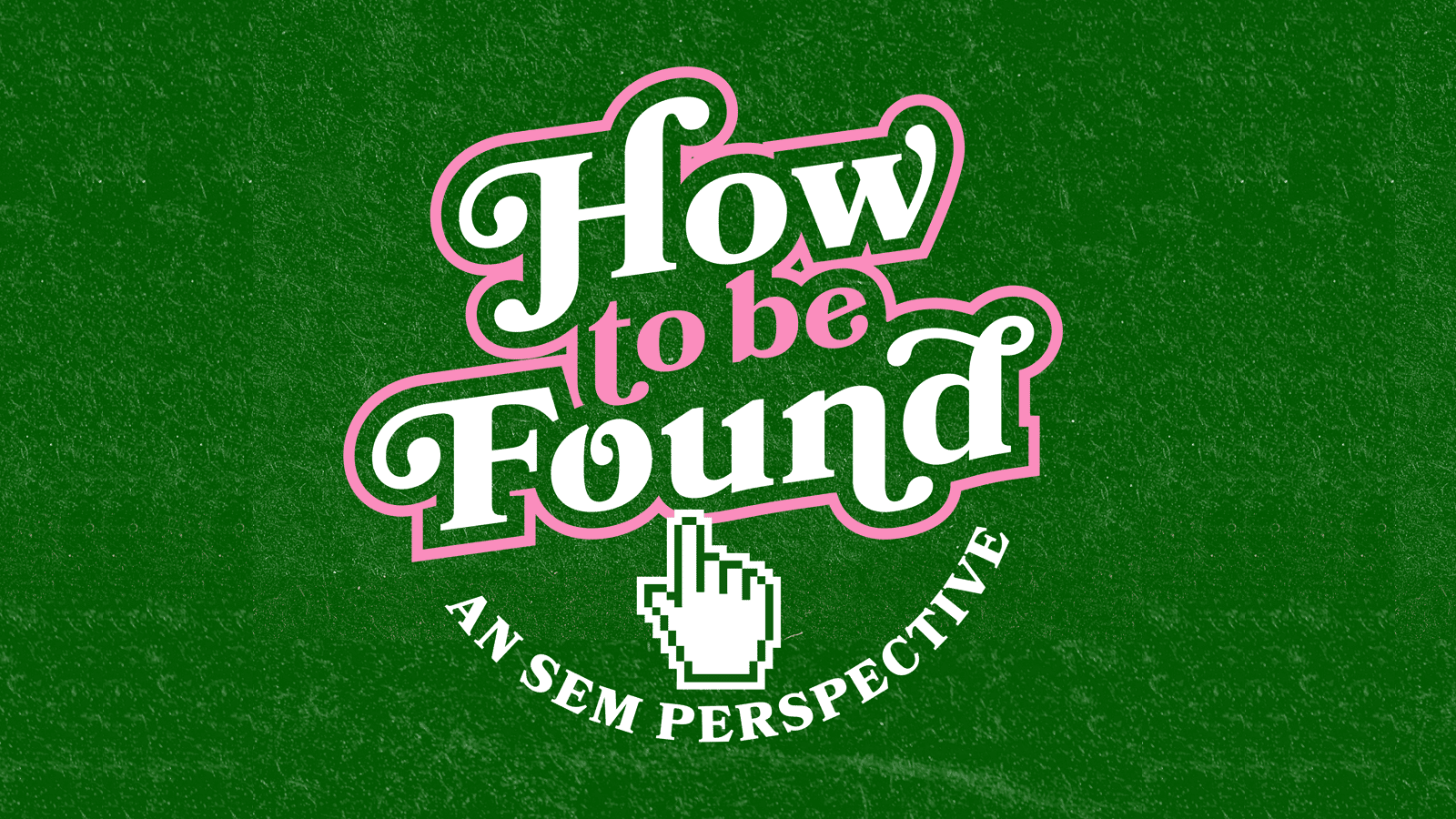 These days, paid search ads are much more than bidding wars to get your ad copy to the top of a Search Engine Results Page (SERP). They're also different from most other paid ad types. Paid search ads are much more reliant on a quality site and on alignment between the landing page, keywords and ad copy. If these elements are missing, your quality score will suffer, and the lower score will impact how often your ad shows, where it shows in the SERP and how much you pay.
the search ad evolution
Over the past few years, Google and Microsoft Bing ads have introduced many new additions available to search advertising – additions that allow search marketers to refer to search ads as anything but standard text ads.
Here is a quick snapshot of the updated ad formats and automations available.

Dynamic Search Ads work differently than other search ads. Instead of choosing keywords you want to bid on with Google, you choose specific landing pages from your site to bid. Google then matches your site content with a user query and serves your ad with an automated headline and URL that best matches that search.
As an SEM expert, I cannot think of a better way to reach more users and match best with user search intent than with a DSA style of search ad. Better yet, you can use the data from this campaign to inform other marketing efforts, such as finding new keywords to use for your standard search campaigns. You also can find popular content that you may not have realized are heavily searched for and, therefore, need to expand upon on your site.
automated bidding
Automated bidding is a powerful tool that can make a significant difference. Automation options for Google are not just for the ad itself but can also be used with your bid strategy. A bid strategy is based on your campaign goals, and Google Ads offers many different types.
For example, you may want to focus on clicks, impressions or conversions, and this will help determine your bid strategy. You can also select to manually bid or use an automated strategy that Google will control.
Maximize Conversions and Target CPAs are two examples of automated bid strategies that factor in a user's likelihood to convert to determine what to bid on that user's search query. Maximize Conversions allows you to spend your entire budget to optimize for as many conversions as possible. Target CPA also allows you to optimize for conversions, but in addition, targets a specific cost per action (CPA).
User story: When we implemented a Target CPA for one of our clients, we saw a 38% increase in conversions, month over month.
the power and ease of local ads
If you are a local business or have multiple locations across the country, local ads are extremely important. Connecting your Google My Business account to Google Ads and building out location extensions will create local ads for you.
Local ads allow you to serve an ad to a user close to your location. The ad will show them your address, phone number and the ability to click to call, to get directions, to see a map view, or to receive more information about your business.
audience targeting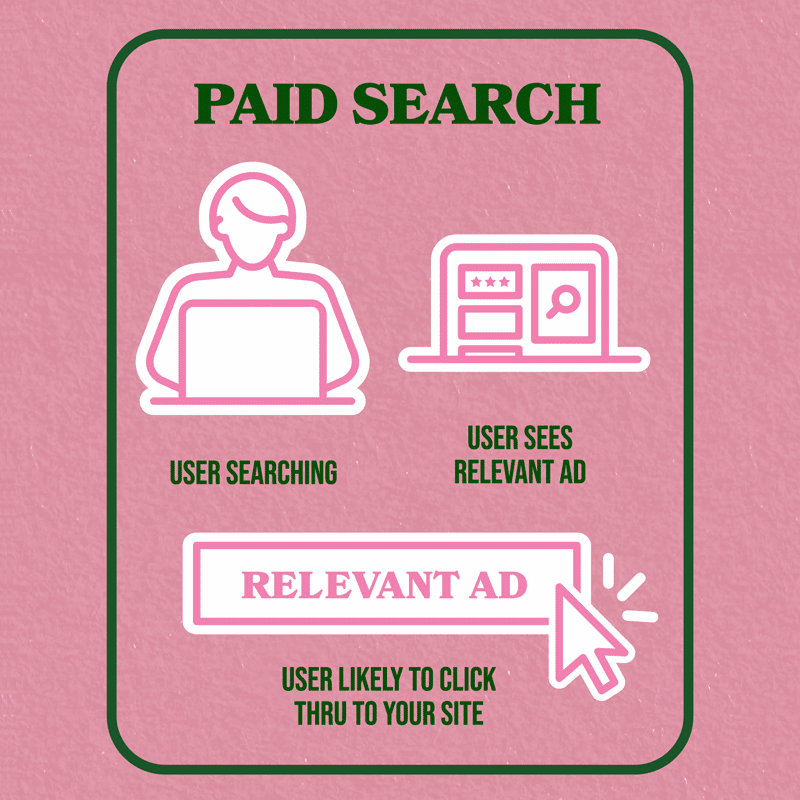 There are many ways to best target your audience with search. First, you can count on your keywords to be your audience target and cast a wide net to make sure you do not miss any relevant searches.
You can use audience targeting by creating specific campaigns around those targets. Whether using in-market, affinity or site remarketing lists, audience targeting can be powerful.
Site remarketing allows you to market certain messages and drive to specific landing pages based on certain actions a user has already taken on your site.
One of my favorite ways to use audience targeting with search campaigns is on observation mode. This method allows you to gain valuable insights about the types of interests and products your engaged users are in the market for purchasing. You might learn something new or find a new target audience segment you never thought of before to use for other channels like display or social.
Observation mode also does not limit you to target only those selected target audiences. The mode allows you to target people that fit that target audience segment you have selected along with anyone else.
why bing, too
Bing Ads, also known as Microsoft Ads, should not be forgotten about in paid search strategies. Typically, Bing Ads will deliver a more efficient CPC (cost per click) and cost per conversion compared to Google. The competition is much lower in Bing.
Bing also covers a wide range of audiences. Bing Ads include other search engines such as Duck Duck Go, a widely popular and quickly growing privacy search engine that allows ads to serve through Microsoft Ads.
how does search marketing research and analysis help other channels?
Search marketing can impact and help all your other marketing channels. The research and performance data can drive insights across channels.
Create custom audiences in Google Ads to serve across Display, Discovery and YouTube. These custom audiences can be created with search terms, websites and apps. Use key search terms for your competitors paired with sites and apps that relate to them.
Share high-performing search terms and audiences with the social team. Shared search terms and audience performance data can benefit keyword planning, such as Pinterest ads and audience target selections in Facebook and Instagram.
connecting the dots
The role of paid search is similar to organic search, in the user's eyes. That user is looking for something. If the ad delivers a relevant response, the user is much more likely to click on the ad and visit your site.
When creating paid search plans, you first must use site content for keyword planning and ad copywriting. Then do your research with keyword planning tools, competitor viewing tools and simply doing searches yourself to look for items in the SERP like "people also ask" boxes.
Finally, make sure your organic search team is working closely with your paid search team. Consistent team collaboration will save you time and money and, most importantly, will help your current and future customers find you with ease.
Search Marketing is valuable to your business and is one of the key ingredients to making your site found.