How To Ship In A World of Busy Schedules
What do 50%, .25, or 100 mean? To anyone that doesn't track projects, nothing. But, to a project manager, they mean everything! As a project manager at Leap Group, these numbers tell me:
– My project is 50% complete.
– So far, I've spent .25 hours of project work.
– 100 of 200 project hours have been used.
When it comes to running a project and creating campaigns in advertising, numbers are essential. They drive the success rate of a project by telling us how over or underwhelmed the team may be, and whether we will finish before, on or after a due date.
We're all busy working on a myriad of projects. To manage projects well and show clients they're our number one priority, we need a measurable standard in order to understand how to move forward with a project, a task or a new client.
With the data collected, we can begin to plan out how much time and resources we'll need. This is all created through – you guessed it – numbers.
To save time, we sometimes use historical information to see how many hours it took to build and complete a similar website. Other times, we start from scratch by estimating out a project and discussing potential risks and/or issues. This method is more time consuming, but we always need to prepare for the unexpected.
Choosing a Software
Project management software keeps teams on track and notifies everyone of their priorities., so choosing the correct software is essential. Our human minds cannot remember every conversation, email or note, but software programs can analyze all project information through numbers and tell us if we're trending on schedule or falling behind.
At Leap Group, we use a project management software tool that helps us see the progress of certain tasks. I can track how many hours are being spent on a task, and can even compare how busy one team member is compared to another. It can even tell us if we're expected to be over budget or under budget before a project is complete. This is all dictated through numbers the software can spit out in a simple report.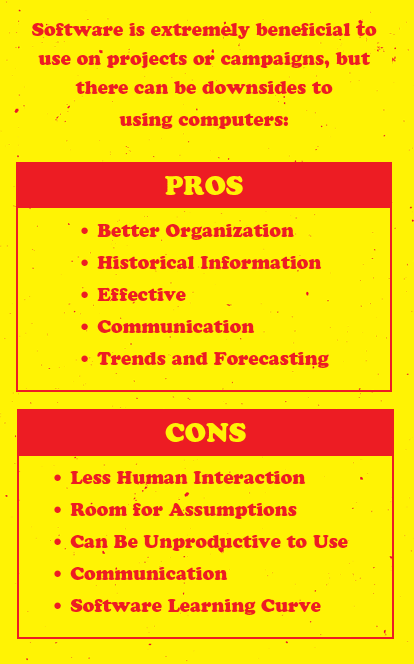 Keeping communication flowing between team members can be a challenge, but having one central location where team members can communicate and see project activity makes a huge difference. Likewise, PMs can understand the bandwidth of their teams and determine who can take on the next project that is being proposed.
Before creating a project, we typically need to see some type of quantifiable data to understand the reasoning behind it. Combing through and analyzing the data, we can then build a project based upon the client's needs, as well as their consumer's needs.