In 100 ft, Turn Right into Google Maps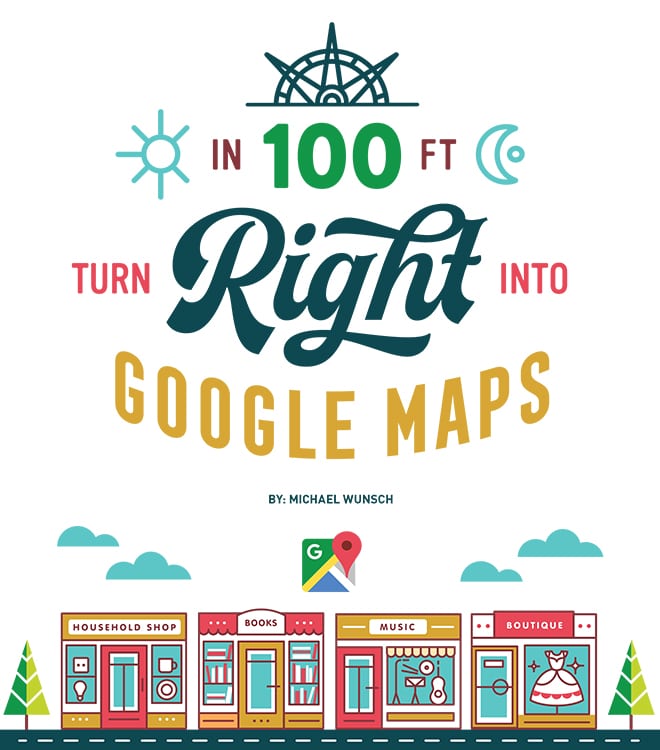 Mobile maps have quietly become a massive part of daily life for Americans. From traffic checks and fastest route to street views and locating businesses and services near them, map apps are not just for travelers anymore.
Apple Maps and Google Maps can duke it out over app usage. After all, there is room for two players in this vast game. But while Apple focuses on retaining its smartphone and tablet market over Android competition, Google is doing something else.
Google Doubles Down on Mobile
The Mountain View, California campus of Google is filled with people focused on one thing: Getting mobile right — right for their users and right for the businesses that would run ads.
In May's Google Adwords Summit, many praises of Google and their efforts were sung. However, these four points stand out:
1. Half of the trillions of Google searches happen on smartphones.
2. Nearly one-third of all Google mobile searches are in regards to location.
3. Location-related mobile searches are growing faster than mobile searches, in general — by 50 percent
4. Seventy-five percent of people that search nearby businesses using their smartphones end up visiting a store within a day.
The goal of Google Maps updates are to become faster, more accurate and they're about giving businesses greater exposure. This even means avoiding the Google search bar and navigating directly to a company's website, via the map app. Because, in the end, Google wants your ad revenue, and they're creating features to get the dollars and views.
Recent and upcoming features for businesses include Promoted Pins (with branded logos), promotions, deals, customizable pages and even a search of inventory. However, Google can only give business owners the tools. It's up to you to make something out of them.
Ways to Make Google Maps Work for you
Want Google Maps to drive business through your door? Don't sit back and wait (remember those trillions of searches happening every day?) Here is a checklist to make your business shines on Google.
1. Make it easy to find your business
Are your business' location, phone number, hours and services accurately listed on Google searches? Make changes by enabling Adwords location extensions.
2. Create a Google My Business account
Visit google.com/business/ and create a listing for each business location. The accompanying dashboard will make it easy to update content and business information.
3. Show some curb appeal
The photo of your business defaults to a Google Street View of the property. This is not always flattering, but you can (and should) change the photo. After all, this is what people see when they search your business. Add photos of the interior and products you sell.
4. Get active with Adwords
On average, ads with the previously mentioned location extensions see a 10 percent boost in click-through rate. So when a potential customer searches "best running shoe store in Portland," your ad could appear with your business listing, complete with location, reviews and photos as well as a "Call Now" button.
Managing what people see when doing location-based searches is a largely untapped marketing resource. Spending a couple hours setting your listing up correctly can result in massive ROI.