Influencer Marketing Grows Up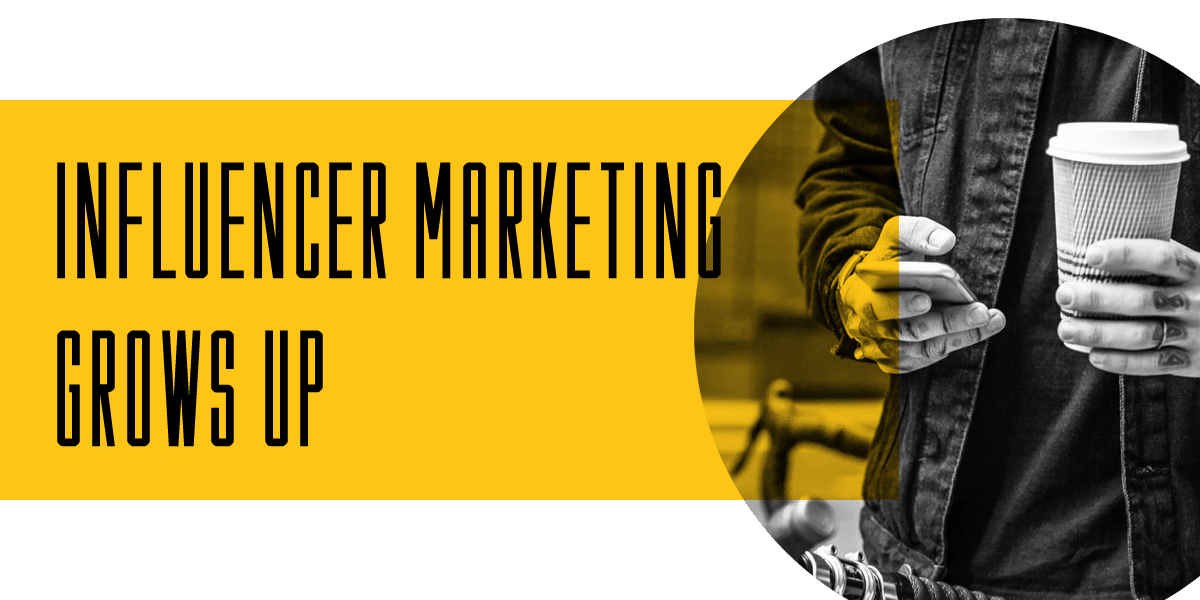 Something interesting happened over the last year you can use to your advantage – if you're willing to accept it as reality.
Influencer marketing has evolved, not only into a viable Millennial marketing strategy, but into a proven tactic offering enormous ROI for audiences ages 18-32.
Paying key influencers and industry leaders to market your brand to their audiences is no longer a "test and see" method. Influencer marketing is a vital part of any social strategy for reaching Millennials and their buying power. So vital, in fact, it tops $1.3 trillion in the U.S. alone, according to Mediakix.
The driving force behind this evolution is the same that creates any digital marketing opportunity: Brands must go where their audiences go, while seeking the greatest return on their investment.
Young consumers are spending more time online, engaging with their favorite content creators. Obviously, this trend ends with influencer marketing as one of the fastest growing marketing strategies in the world. And there's no reason to believe it will slow down anytime soon.
While influencer marketing isn't a new strategy, the aging of advertising-shunning Millennials into a massive consumer group means all marketers need to start thinking like a Millennial. But what does that mean exactly? Think mobile-first. Then, focus on the soft sell of peer recommendations over interruption-based advertising.

It is important to remember influencer marketing isn't as plug-and-play as it may seem. A lot more thought goes into it than just picking a popular Instagrammer.
Every marketing team needs to create a process for working with influencers that best fit their brand.
That said, there are some fundamentals to creating a winning strategy that should be a part of every engagement regardless of brand or industry.
Influencer Campaign Steps
Establish what you want to accomplish. [Sales, leads, brand awareness, contests, audience build]

Create a budget, including the number of influencers you want to engage and how many posts you think is best. [Ten influencers each posting once. Or four influencers, each posting five times]

Reach out to a database of influencers, and create a narrow list of partners. Look for brand synergy. Remember, it's a two-way street. [Your brand → Influencer → Content Influencer audience wants to see]

Select influencer(s) and contact them with an overview of your brand and goals.

Influencers should send ideas/concepts for your approval before posting content anywhere.

Influencer creates content and sends for final approval. [Videos, still images, blog posts, etc.]

Make all revisions and edits.

Publishing.

Monitoring and response.
Make Your #Ad a #Win
Before starting any influence marketing campaign, first acknowledge the difference between an influencer and a celebrity.
A reality show contestant from 2015 with an active fitness and fashion Instagram account may not be a celebrity, in the traditional sense of the word. But with their million+ followers, you better believe they can be influential. Influencers didn't get to where they are by misleading their audience or publishing random content.
Among teens, YouTube stars are perceived as 17x more engaging and 11x more extraordinary than mainstream stars. – Variety
While celebrities are often more concerned with PR, influencers must deliver consistent content that is on brand to their followers to remain relevant. They, like you, built a brand with a loyal following and they have their own goals.
The big takeaway from the celebrity vs. influencer distinction is realizing that every brand can get in the game. Obviously, the more niche your audience is, the fewer influencer options you may have.
If you're in the banking sector you may only have a handful of influencers that only produce blogs, while a lifestyle consumer brand may have hundreds of potential influencers on every social platform.
Nevertheless, influencer marketing can be done effectively by any brand.
Still, too many people think influencer marketing is only an awareness tactic. This is a narrow view of its potential. If properly configured, an influencer tactic can drive awareness, sales, retention and loyalty. A deeper ROI from an influencer campaign must include a synergy between topic, influencer, advocacy, brand storytelling, channel choice, budget and timing. Balance, compromise, collaboration and creativity are key to ensuring everyone wins with the campaign.
Unfortunately, there's not a "#win!" button for Millennial marketing. Your brand needs to strategize, execute and track results. But Influencers offer a path to reaching the least brand loyal generation ever.
Influencer marketing isn't new, but I believe it has matured along with Millennials, and has created new opportunities with endless possibilities.