Real Time Marketing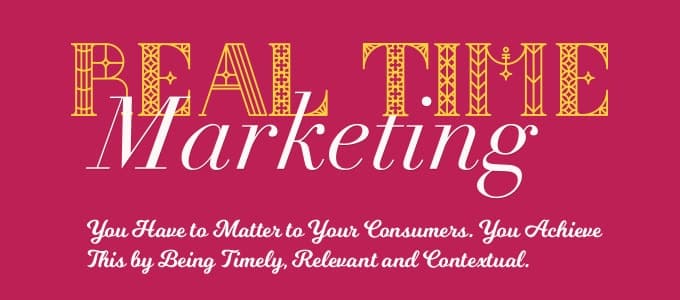 Real-Time Marketing has been all the rage since the lights went out in the Superdome during the third quarter of Super Bowl XLVII. We're all aware of Oreo's quick response to the blackout. You're probably also aware it was their agency 360i, who, armed with a social media war room and lots of dollars, managed to capitalize on a captive audience who could not take their eyes off of a dimly lit Superdome. It was perfect, the message heard 'round the world – Power out? No problem – YOU CAN STILL DUNK IN THE DARK.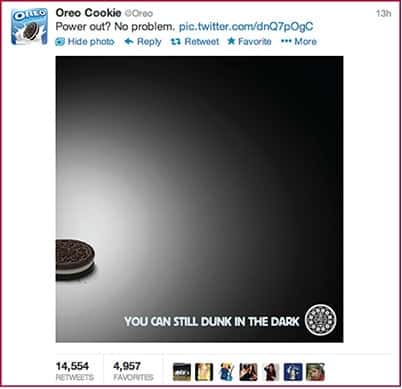 Perfect, maybe. Lucky, maybe. The future of marketing, not quite. Let's discuss.
So what happened after the tweet heard 'round the world? Lots of brands assembled specialized social media teams, built war rooms and challenged their agencies to bring them an opportunity to cash in on the real-time marketing phenomenon. There is no telling how many monitors were hung from walls in impressive formations, all intent on catching the big moment.
And, for nearly the next two years, we have been searching for the next great moment. Arby's came close with their "Hey @Pharrell, can we have our hat back?" tweet during the Grammy Awards that next January, but let's face it, what the hell do the Grammys and Arby's have in common? Little at best.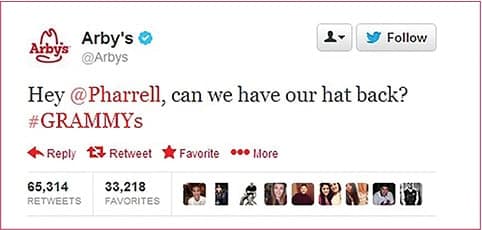 And thus the problem with real-time marketing. It is about capturing a moment regardless of its relevance to the brand doing the capturing. We have confused timeliness with relevance.
No one knows this better than one of the brains behind the now famous Oreo tweet. In an article titled, "Agency behind the Oreo Super Bowl tweet is so over real-time marketing," appearing in The Globe and Mail Newspaper, 360i Chairman Bryan Weiner was quoted as saying, "It was an uncluttered environment, and it was new, which made it cool, …it went way overboard, real quick. And guess what happens when everybody rushes to a party – it gets uncool quickly, and crowded."
While the article does state that Mr. Weiner and 360i still engage in some real-time marketing, they now only react to conversations, positive or negative, that people start with them.
That's important! What was just introduced was the notion of social media teams, ready to pounce on a CONVERSATION, not an event or moment in time. It's how we Market Less and Matter More.
Real-time marketing can be deduced to nothing more than throwing copy on a wall and hoping it sticks. Like a comedian on a stage, if your material is decent and your timing is good you can get some laughs. BUT, if you fail to connect with the audience, you won't be laughing for long.
Now, if we add conversation to the mix, we get what is known as Real-Time Engagement Marketing or RTEM. RTEM is not in a social media silo but branches out into email and mobile among others. It is about responding and engaging with consumers who are conversing and interacting with our brand. This can take the form of a triggered email, a proximity alert on a mobile device or a push notification based on an activity. And of course, it includes engaging in conversations, both positive and negative, through social media.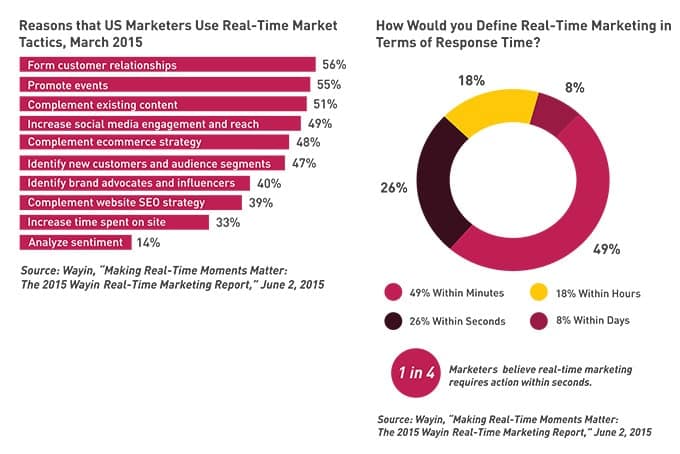 Is this the future? The 2015 Wayin Real-Time Marketing Report surveyed 200 top marketers and found that marketing automation such as triggered emails is the number one real-time marketing tactic (62%).
The same Wayin report goes on to mention that tools are seen as the most critical element for an effective real-time marketing strategy (52%), although more than 40% said they are lacking these tools in particular.
What are The Benefits of Real-Time Engagement Marketing?
One of the most obvious and one that most CMO's will sit up for, is ROI. The reported ROI is real when real-time is used to engage. Why? Because it aligns with business objectives and drives connections, leads and sales.
Real-time engagement marketing also makes customers' lives easier. Through more relevant and timely messages, brands have an opportunity to further connect with consumers and show them a little love. What about this idea? I walk into a Best Buy and my Best Buy app welcomes me to the store (along with the inventory control dude) and shows me my rewards card as well as any rewards balance it may have. That would come in handy when I made it to the one open check-out lane and have to announce my phone number in front of 5 curious folks when I can't find my card.
There seems to be fairly broad agreement about the benefits of real-time marketing. In a Evergage survey, 81% cited increased customer engagement as a main benefit while in a different survey by Econsultancy, improved customer experience (73%) and increased conversion rates (59%) landed at the top of the list.
Marketing communications preferences tell consumers you care. In order to engage in a timely and relevant manner, your brand will need to find out as much information about your consumer's communication preferences as possible. This means knowing when to email, when to send a text, when to push a notification and, most importantly, knowing when to be quiet. Asking these preferences communicates a desire to get to know them. Those who find this intrusive likely weren't the ones who would be engaging with your brand to begin with.
So What's it All Mean?
Your content marketing must begin with one core objective – engaging with your consumer in a timely, relevant and useful way. Real-time engagement marketing allows you to respond and interact in near real-time, while responding to those who want to have a conversation or have indicated that they want to be talked with. Anything else is content thrown against the wall.