Show Your Brand from a Whole New Angle
Imagine you've developed an exciting, new tool — say, a smaller-than-normal nail gun that allows you to work in tight spaces.
(Good for you. That sounds like a useful tool. Hope you make zillions.)
In order to convince your target audience it will make nailing easier, which is the key to its successful marketing, you'll probably use some kind of product demonstration. Makes sense, right? Show them and they will buy. But what if there was a better way to demonstrate your better product?
What if the viewer could not only see the environment but feel immersed in it? Seeing multiple views of the product in action? Up close and extremely personal? That's what 360° video allows you to do.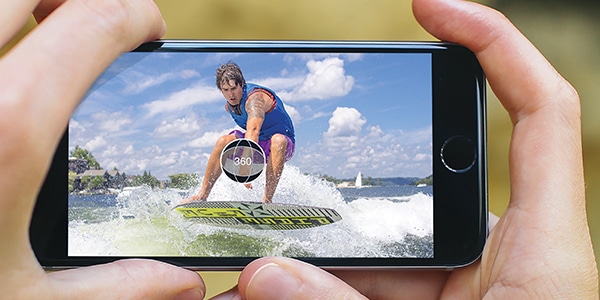 According to Garett Sloane, a senior writer at Digiday, "The spherical videos are coming into their own this year with Facebook and YouTube showing more of them."
How it Works.
As a 360 video plays, viewers simply turn their phone, or drag their finger, to change their perspective within the video and explore every angle. It's as though they've actually entered the video.
Numerous major-league marketers, from Gatorade to the Sierra Club, have embraced the technology.
A fantastic example of 360° engagement was Hyundai's "Operation Better" Super Bowl spot. Created at US military base in Poland, the spot featured American soldiers, stationed in Poland, taken into a pod that was surrounded by a live, 360° feed, directly from NRG Stadium in Houston, Texas, where their families were watching the game. Through the video, they were able to watch the Superbowl with their families. The interaction between the soldiers and their families, with a backdrop of the biggest American game, was heartwarming.
News coverage is another emerging use for 360° video. On September 17, a bomb went off in the Chelsea neighborhood of Manhattan. Within an hour of the explosion, The Associated Press had a journalist in the middle of the scene within an hour filming a 360 video that was uploaded to Facebook within five hours. When little information was being reported, viewers were able to get all perspectives of the scene.
Our bottom-line assessment? We believe this is a big innovation for marketers to show off products or experiences, not just another fad.
360 Videos worth checking out:
ESPN

Immersed audiences in the Rio Olympics using 360 video.
Rolls Royce

The car brand used 360 video to allow consumers to tour its new car, the 103EX model, from their screens. YouTube counts 212,000 views of the automobile:
Deadpool

To promote the new Marvel movie, a Deadpool trailer was shot using 360 video in a bar where viewers can see Deadpool, played by Ryan Reynolds, playing pool, drinking beer, serving beer or dancing on the bar.
Gatorade

The energizing, sports drink took you inside the Washington DC Nationals stadium and into the head of Bryce Harper as he "batter's up!"
McDonalds

As they were promoting the "Angry Birds" movie in May, 2016, McDonalds not only gave out plastic, Angry Birds toys, but created a 360 video of life sized Angry Birds eating with families at the fast food restaurant.