The Mobile/Tablet Shopping Apocalypse is Here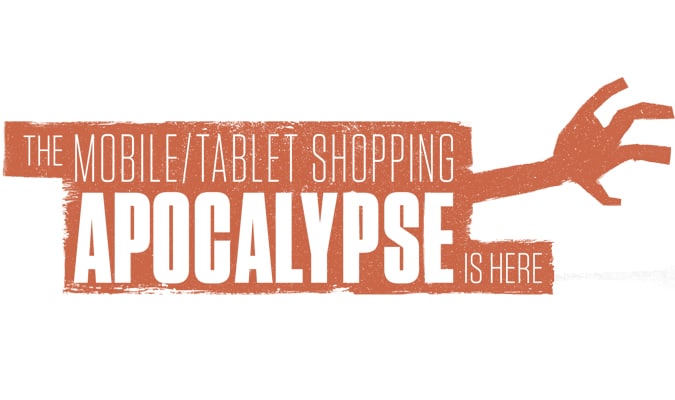 You've wrapped up your shopping, collecting your last impulse buy on the way out of your favorite retailer we'll call "Bullseye," when you're greeted by something that seems like the scene from a zombie apocalypse: 24 checkout lanes, a single cashier and 12 customers in line looking as if the end is coming.



You do a quick scan to see if what you have is really worth the wait. You need the toilet paper and conditioner, but can do without the retractable garden hose, coffee maker, 4-pack of T-shirts, beach towel and oversized stuffed animal pillow. You ditch the cart and run for the door as if you're being chased by the undead.



While it's hard to replace the actual experience of stepping into the store, eCommerce has taken great steps towards making that a possibility. With essentially every major retailer out there creating robust online stores, mobile apps and mobile friendly websites that make their products available literally anywhere you are, the barrier to purchase has dropped exponentially. It's this ease and convenience of purchase that makes mobile commerce a more than 25 billion dollar channel annually.



While the numbers still pale in comparison to eCommerce, mobile commerce (smartphone and tablet) has grown by nearly 25 percent compared to the year before, meaning it now represents 10 percent of all digital commerce. That number will only continue to increase as more and more smartphones and tablets flood the market. As marketers continue to adapt to an increased number of online purchases, they must continue to fine-tune their methods in different channels to create a holistic user experience that rivals, if not trumps that of walking into a store. They must also understand, while they seem similar, the shopping experiences on a mobile device versus a tablet are very unique.



Since smartphones can serve as an in-store tool, and consumers are more likely to utilize their mobile apps, marketers are shifting their engagement activities to help drive home the sale. Smartphone users look for convenient ways to complete a task, so marketers should keep in mind that if it's not simple to complete a task, then consumers are likely to "leave the store." This means putting apps, coupons, consumer reviews and more, right in the palm of their hand.



On the flip side, tablet shopping usually happens at home and more likely on a mobile browser, so the marketer must create a more robust experience for the customer who's shopping from the comfort of their couch while watching the latest episode of AMC's The Walking Dead. They need to be able to engage with a tablet-optimized site, watch videos and be fed more dynamic content.



Shopping as we used to know it is gone. The path to purchase is quickly shifting away from standing in zombie-filled checkout lines and into the mobile shopping world. The key to winning the mCommerce game for marketers involves a heightened level of awareness about their audience: how they shop, when they shop, what they want, how they want it and when they want it.