The Power of the Cord-Cutter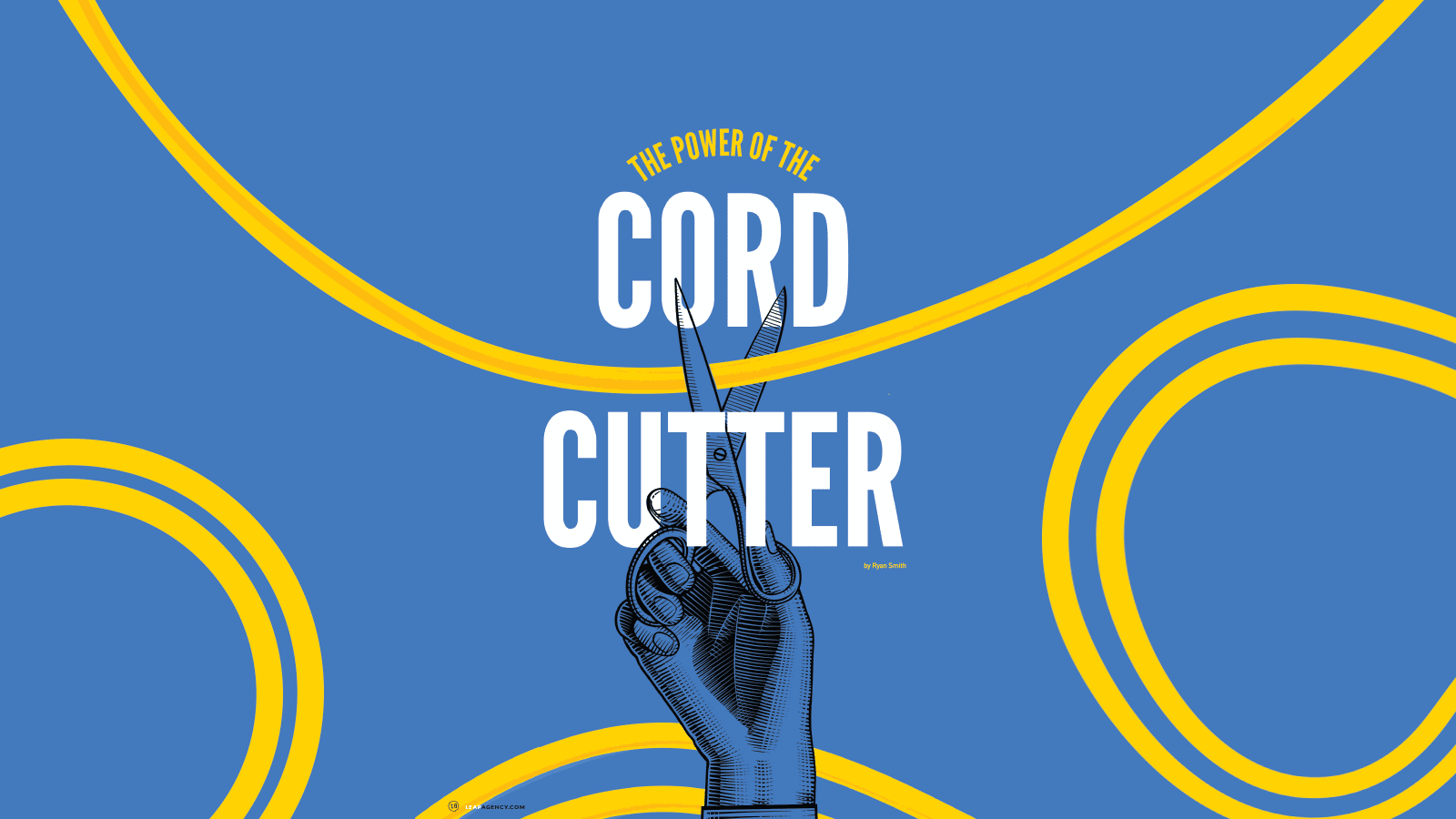 If you aren't one, then you know one. Or you may be one soon. The "cord-cutter" is becoming one of the most powerful and intriguing targets for marketers.
Cord-cutter (n.): someone that has quit cable or satellite television in favor of an internet-based service.
These people are shifting the entire digital and traditional media landscape. Basically, power has shifted away from cable companies and to consumers. This presents a huge opportunity for advertisers to continue their shift toward digital without losing the power of incorporating television into their media mix.
The Audience
There are two types of people in category: cord-cutters and cord-nevers.
Cord-cutters skew older, and the average age continues to grow. Currently, most cord-cutters are between 18-44 years old. These people are digital-first, and they consume a lot of content. They most likely left their cable or satellite provider for one of two reasons: price or convenience.
Cord-nevers are younger, with an average age of 34 – cord-cutters and cord-nevers are very similar. They never entered a contract with a traditional television service and tend to be more mobile-oriented compared to cord-cutters. Cord-nevers are more apt to be regular YouTube consumers, and continue to influence the massive growth of that channel.
While distinct in some ways, these two consumers are very similar. They are consuming between 2-5 hours of content in a single setting. They are social, savvy, influential and they are changing marketing strategies.
Making Connection
Despite a majority of cord-cutters being Netflix customers, studies have shown these users aren't opposed to advertising. Actually, according to a Harris Poll, 52% of cord cutters don't mind watching commercials on their streaming services.
Today, there are a lot of options for distributing your brand's content. The final decision really comes to having a solid strategy, like any other form of digital advertising.
Traditional TV has always been held in high regard by advertisers for its ability to reach large audiences. But the cord-cutter revolution provides an opportunity to be more targeted and eliminate wasted spend. To the end user, the experience is similar to what they have become used to with traditional ads and can even be more interactive through new offerings within Connected TV.
MVPD = "Multichannel Video Programming Distributor" – delivers programming on multiple channels, usually through a subscription.
VOD = "Video on Demand" – Opposite of live TV, allowing viewers to select and view content at the time of their choosing.
The Future
As consumers have taken the driver's seat, it's important we not only look at where they sit currently, but also look toward where they're heading. Every major content provider is working to stay in front of these trends. From Disney creating its streaming service to Hulu, YouTube and Amazon drawing in streaming customers with award-winning exclusive content, it's clear we're only at the beginning of this revolution.
The shedding of conventional TV restraints has led to the rise of new ways for marketers to utilize digital video. For instance, cord-nevers are beginning to accept – even demand – content from brands they care about. Lifestyle brands are leading the way. Companies like Yeti, Specialized Bicycles, Lego and many others are using their branded YouTube channels to connect with consumers on a far more intimate level than ads could ever allow.
This approach shouldn't be limited to lifestyle brands. Business-to-business brands, like UPS, are looking to create the same type of connection with their enterprise customers through similar storytelling. The evolution of digital video advertising will be the combination of remarkable content marketing and compelling advertising.