The Rise of Mobile and its Impact on Search & Social

In the last few years, the rise of mobile devices has
changed more than how we communicate with each
other – it's changed how we think about searching for
information, how we study products, and even how many
of us conduct business.

Let's take a closer look at the rise of the mobile era and
what effect it's really having on everything else.
Embracing the Mobile Era

Mobile devices are more than an alternative platform –
people genuinely think about them in different ways.

Here are some of the most important stats:


People perform more searches on mobile devices than
they do on any other platform, and search engines are
adjusting to account for this.




However, conversion rates on mobile devices remain
significantly lower than for desktops. As things currently
stand, mobile devices are primarily used for research
and information, while desktops are still used for actual
purchases. Sales funnels should be designed accordingly.




A majority of consumers believe that mobile-optimized
sites are faster than non-optimized sites, and they have
essentially no patience for slow loading times or delays.




24% of teens are online 'almost constantly', and a huge
majority of them use one or more forms of social media.


Most people don't give up access to technology once they
have it, and the fast-paced world of social media is giving
people a reason to be connected.

Mobile devices aren't replacing larger computers, they're
supplementing them. Through the years, time spent on the
Internet via mobile device has grown rapidly.
Search and Social Integration into Mobile Through Recent Years

There are two main forces driving the adoption of mobile devices for search and social.


First, mobile devices are convenient. People don't have
to wait until they get home to search for something that
interests them – they can do it anytime, anywhere, and
they're more than willing to take advantage of this.




Second, mobile devices demand and receive attention.
They beep, flash, and vibrate every time something
happens, and users have trained themselves to reach for
the device and find out what's going on. Younger users in
particular may even suffer from 'Nomophobia', the fear
of being without their phone and thereby disconnected
from the rest of the world.


Essentially, mobile devices
are where people create
connections, while desktops
are where people use them.
Search and Social Breakdown
Organic

As consumers, the micro-moments we experience and
the brands that accommodate our "in the moment" needs
shape our preferences and purchases. Ultimately, the
brands that do the best job of addressing our needs will
win. This has always been true; however, the rules of the
game have changed and the pace of interaction is now
lightning fast.
Paid

Companies like Google are heavily investing in monetizing
mobile platforms – which is no surprise, given the explosive
growth in mobile search. The most important thing to
remember is that this area is constantly changing.
What's true and effective right at this moment may not be
applicable six months from now – as such, mobile marketing
strategies must be flexible if they're going to succeed.
Referred Content

Referrals are an increasingly powerful force in mobile
marketing. Consumers check their mobile device more than
150 times each day, and many of them will regularly follow
links from both email and social media. Search results
and social media feeds are not the only way to reach
mobile users.
Social

Social and mobile go together like peas and carrots. As
evidenced in the chart below, social activity via mobile is still
very much on the rise with Facebook leading the way. This is
an important indicator for brands wanting to stay relevant in
the mobile era.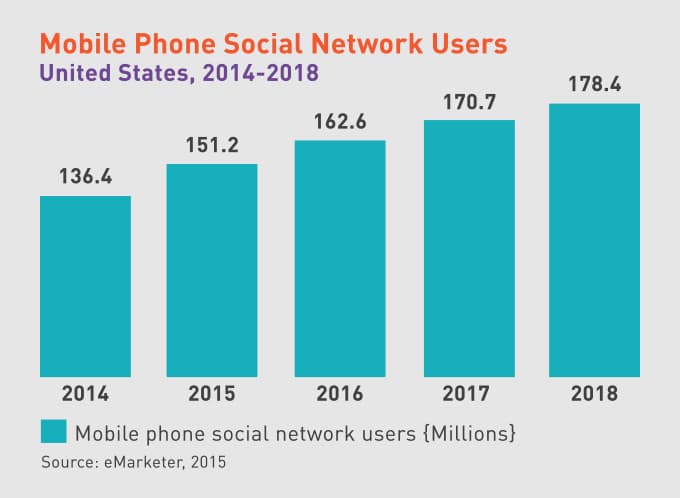 Final Thoughts

Mobile is big, and it's not likely to go away anytime soon.
However, for all of its potential, companies shouldn't abandon
all other forms of advertising in order to focus on mobile
devices. Not yet, at least. What savvy brands need to do is
recognize that mobile is part of the engagement path to be
considered heavily. Consumers demand information and
entertainment literally at their fingertips – figuring out how
to be a part of that content is the future.