Visual Storytelling Through Emojis, Memes, & GIFs: Learn How to Use Them to Connect with Your Audience on a Deeper Level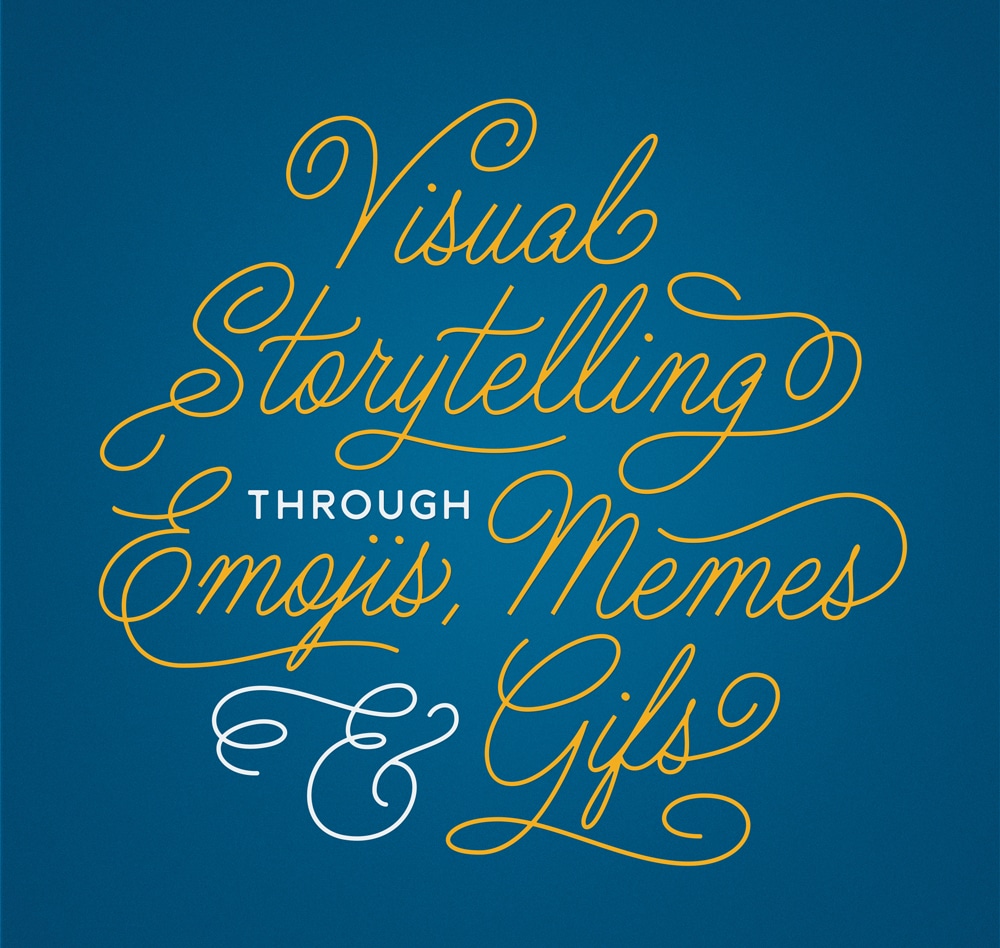 Consumers are constantly encountering millions of
visual messages that consist of emojis, memes and
GIFs every day. Visual platforms like Instagram, Tumblr
and Snapchat have changed the way the average person
creates and shares content. What started as a simple emoticon
in the 90's that looked something like this – 😀 – has now
morphed into something much more detailed, meaningful
and heavily ingrained in consumer's lives.
Online users from ages 13 to 60 are utilizing emojis as a
shorter way to communicate and get their emotions across.
So why should brands do the same? An August 2015 study
from trend-forecasting and brand-strategy firm Trendera
revealed that over half of consumers said they wish brands
would treat them like a friend, instead of a consumer. They
also said that a brand's social media presence influences
their impression of the brand.
Emojis
In a world where every character counts, emojis allow us to
say more, with less. Whether you use the occasional smiley
face in a message or can fluently speak emoji, there's an
incredible shift happening in the way that we communicate
that's crucial for brands to pay attention to. The cute smileys
and hearts were introduced in 2007, but you wouldn't know
it. It hasn't been until the past several years that emoji-heavy
communication has really taken off.
92% of the online population use emojis – all of whom
believe emojis express their feelings more accurately than
words. Emojis are so ingrained in digital and social language,
particularly among young people, that it's naturally becoming
an element of brand's digital efforts. And as a brand, you
should be dedicated to engaging people by means of which
they prefer to communicate. SO, what's a brand to do?
Jump on the emoji bandwagon and ride the wave?
Not exactly. First, figure out what makes the most sense
for your brand. Then, learn how to utilize emojis to get the
most bang for your buck. Although it may seem pretty simple
(start using emojis in all of your communication) it's not that
black and white. One little misinterpretation of what a symbol
means and your brand could be dealing with an all-out
PR crisis.
Take a pointer or two from Taco Bell – a brand that has never
been afraid to push the envelope and adhere to what their
audience prefers.
They saw an opportunity when the taco emoji was released
last year and created an entire campaign around the exciting
news. Part of the campaign was to tweet them two different
emojis, and an animated GIF would return translating
what the two emojis combined meant using the hashtag
#TacoEmojiEngine (Don't worry – We'll talk about GIFs in
a minute).


Or what about Domino's? You can literally tweet or text the
pizza emoji to them and order a pizza! Now, that's cool.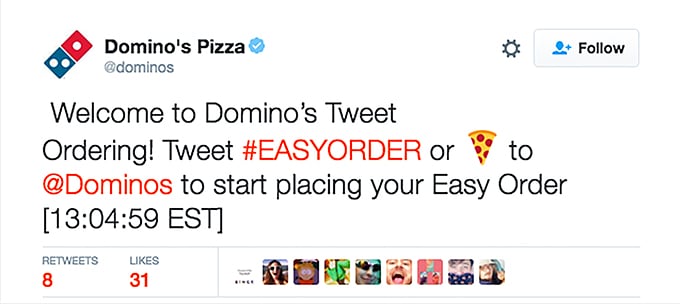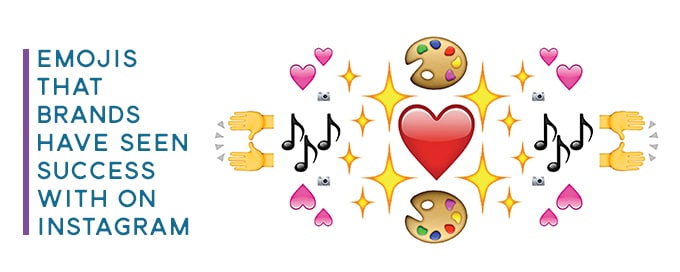 Memes
Memes are those hilarious images you see splattered all
over social media. Grumpy Cat is a classic, and so are all of
the Ecards you see with hilarious, inappropriate messages.
The majority of memes are meant to be funny or sarcastic,
but because they grab our attention, brands can benefit
from them if executed in a smart or clever way. According to
Trendera, "brands that participate in using GIFs, memes, etc.
make US teens and adults more interested in a brand."
Coming off of a wildly successful marketing campaign for
a beer brand, "the most interesting man in the world" was
immediately turned into thousands of different memes.
The benefit for Dos Equis? Every time a new meme is created,
it creates brand recognition for them. The beer is generally
always in the memes and the man himself is the pure
essence of the brand.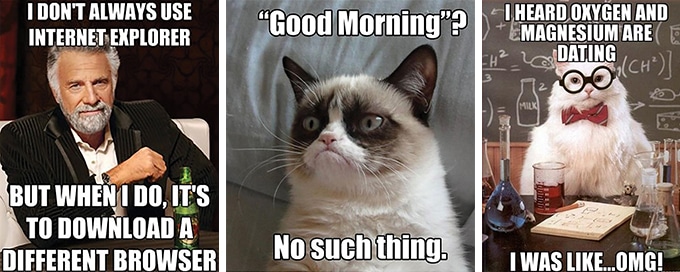 GEICO is another good example of this. When they released
their hump day campaign, memes immediately started circulating
the Internet. Now, every Wednesday, most people will
be talking about hump day and saying "guess what day it is".
Don't worry, you can also celebrate emoji style with

The key to an effective meme is finding the right image to
use. It can be a picture you take or a spin on a popular meme
from the Internet. Don't worry, most popular images that are
all over the internet are not copy written, so once you add
your own text and watermark, it makes it your own to use.
Think about your goals and the feeling you want your audience
to have when they associate the meme with your
company, and have some fun!
GIFs
Not new to the scene, GIFs are almost 30 years old and have
come a long way. Over the past 10 years or so, millennials
have really grabbed hold of GIFs and more often than not,
use them to express themselves with very little text content.
GIFs are quick, one-liner responses to all kinds of web
conversations. There are even GIF keyboards like the emoji
keyboard that can be installed on a smartphone.
GIFs are becoming the go-to
tactic for brands seeking
higher engagement.

As marketers look for new ways to stand out in the ever-
changing digital landscape, GIFs are becoming the go-to
tactic for brands seeking higher engagement. GIFs, which
loop endlessly, let brands tell a story to their consumers
similar to emojis and memes. When creating an animated
GIF, it's not as simple as throwing a 15-second spot up or
even quickly editing a video. Where the GIF is going on social
media also matters and will affect the content you're developing.
The GIF is a more advanced form of visual communication
that allows an every day user to form a deeper connection
with a brand.
Domino's created this fun GIF to hypnotize their pizza-loving
audience and they definitely liked it!
You're getting hunnngrryyy, verrrry hungrrryyy. #GIFParty pic.twitter.com/5AvafXad9a

— Domino's Pizza (@dominos) March 3, 2016
Don't be intimidated by the process of creating a GIF. While
not as easy as making a meme or researching emojis, GIFs
can leave a lasting impression on your audience that emojis
and memes can't. You can learn how to make a GIF on Photoshop
from videos on YouTube, check out some GIF-making
websites or have an agency-partner help produce the
content for you.
All Together Now
So what does all of this mean?
Emojis are relatively easy to implement.
Just be extremely careful when
deciphering what they mean. Memes
are an effective and inexpensive way
for your brand to connect with your
audience by combining your brand values
and pop culture, relevancy and wit.
And, GIFs may take a little more time
to create but are a fun way to engage
with your audience and tell stories.
As always, ask your team what your
communication objective is? Do these
tactics make sense for your brand?
Above all, strive to market less and
matter more in the digital world of
clutter and chaos.
As brands, we're not just communicating anymore, we're constantly telling a story to form meaningful relationships with our consumers.