When the Stay-At-Home Mom Doesn't Stay at Home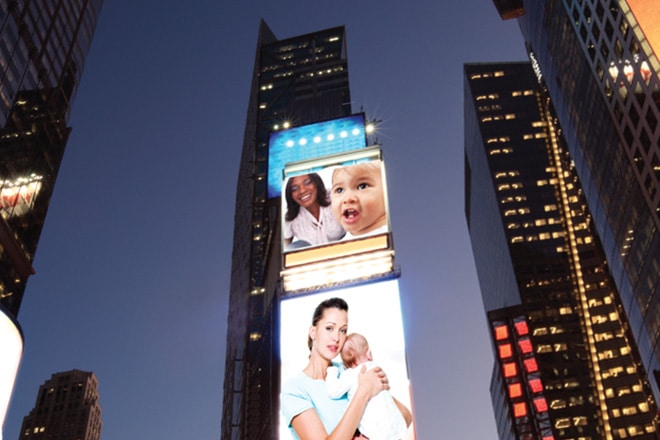 For decades, dozens of university studies, government agencies, and even advertising professionals have been telling us that America hates advertising. We get hit with too many segmented messages; we don't pay attention to any of them; and, even if we did, we could never be moved to action by anything they have to say!



… Right?



Every seven seconds, there is at least one new person in the united states who shatters this misconception. This person cares deeply about the brands she chooses. She is receptive to marketing, and in some cases, she even collaborates with marketers' efforts. That's because every seven seconds, another American woman becomes a mother — and everything in her life changes.



These new moms suddenly find themselves balancing the necessity of saving time and money with the desire to make purchases that are beneficial to the whole family. Therefore, moms actively listen to pitches, conduct secondary research, and make educated decisions about their purchases — which, by the way, make up 80% of household spending. And, there's still a cherry on top: 77% of moms go on to share this information with other moms in their social circles. For marketers who target the powerful demographic profile of "Millennial Moms" — that is, women who have become mothers since the turn of the century — this is all great news. But, there are also many challenges when advertising to moms: their attention is fragmented; their free time is limited; and their consumption of traditional media like TV and print all but vanishes after having children. That's why digital out-of-home is a timely and eye-catching solution for marketing to on-the-go moms. And it's one that actually works!



WHAT IS DIGITAL OUT-OF-HOME?

Media research giant Nielsen has given digital out-of-home (often abbreviated DOOH) a simple and easy definition. They call it the "fourth screen" — that is, a digital display that isn't home television, a computer, or a mobile device. The precise form this fourth screen takes, however, is totally dependent upon the location, budget and overall marketing goals of the ad. So, whether it's a four-inch interactive shelf display, a 40-inch in-store video, or a 400-foot led billboard, if it's a screen that is not your tv, computer, or handheld device, it's probably considered DOOH.



Just as this digital signage (another alias for digital out-of-home) can come in all shapes and sizes, it can also be used to achieve a wide variety of marketing goals, such as:



Introducing a brand to mass markets.

Outdoor led displays commonly appear in the form of a roadside billboard, but some DOOH ads (like those that appear in prime locations, like in Times Square or Vegas) can be 500 feet wide or more! Incredible visibility and placement make digital out-of-home the perfect way to reach a true mass-market audience — including moms. New moms in particular are more likely than the average adult to choose a fresh and innovative new brand during this time in their lives, especially if that brand stands for something like safety or reliability. What's more, these moms tend to stick with that brand throughout their young parenthood life stage — and sometimes throughout their entire lives.
Providing a call to action at the point of sale.

According to a 2009 study by the Retail Advertising and Marketing Association, moms are more likely than the average shopper to be influenced by special in-store displays. The interactivity and intriguing video capabilities of digital out-of-home make it a clear choice to catch Mom's attention at the point of sale.
Reinforcing a traditional TV or print campaign.

Approximately 83% of moms conduct Internet searches on products after seeing them on a TV ad. Digital signage that reinforces traditional campaigns like these can provide the information she wants while she is considering a purchase.

Mom is always on the lookout for ways to make her busy life easier. Digital out-of-home can help her find them while simultaneously reaching out to other consumers in a unique way.



OPPORTUNITIES FOR MAGIC

Over the past decade, the concept of "Anywhere Advertising" has soared to unprecedented heights. From the most recognizable household names to the smallest of niche brands, thousands of marketers have used viral and guerilla marketing campaigns to build buzz about their goods or services. When executed creatively, digital out-of-home provides an opportunity to create the same word-of-mouth excitement, but in an endlessly more dynamic medium. Knowing that the key audience member, Millennial Mom, is receptive to these ads, marketers have a golden opportunity to hit their audience with some really smart, creative work. Here are a few ways that creative content can make the most out of a digital signage campaign:



Through encouraged interactivity.

Today, the technology available for digital signage is capable of far more than spitting out one-way communication. Touch screens, holographic glass, and even two-way video capabilities are some of the newest ways that digital signage can be used to engage the consumer and create an overall experience with the brand. Ordinary digital signage content can be updated on the fly and implemented at several different locations wirelessly. That flexibility can make for some very creative campaign options, as well.
By utilizing surroundings.

One of the greatest advantages of digital out-of-home is just that: it's outside of the home. Some of the most creative and effective outdoor advertising concepts use the medium itself to convey their messages in extremely unique ways. The same can be said for digital out-of-home. Considering the physical location of each DOOH ad during the initial creative process is pivotal for its success.
With fascination, not distraction.

Sometimes, there's a fine line between what is eye-catching and what is just, well … ugly. A good digital designer knows how to stir up visual interest without giving the consumer an instant case of vertigo. Additionally, a good digital agency recognizes that just because a display is capable of showing fast-moving video and state-of-the-art animation, doesn't mean that those capabilities should be maxed out. Both the agency and the client should trust each other and should never lose focus of the campaign goals. This is the first step toward getting great DOOH results.
THE FUTURE OF DOOH AND THE MILLENNIAL MOM

Digital out-of-home was one of the fastest growing media channels of 2009 and looks to continue in its popularity over the next several years. but, there is much debate regarding the reasons for the medium's explosive growth. Some argue that digital's measurability has made it popular with analytical types, as it's much easier to track than traditional outdoor advertising. Others point out that the amount of time people spend outside of the home is higher now than ever before and that the progression from print to digital in this arena is just a sign of the times. And, still others say DOOH is gaining speed simply because the prices of digital signage equipment have finally fallen low enough to justify their use. Whatever the reason for its growth, digital out-of-home is here to stay. It's predicted that the medium will continue to evolve right alongside other electronic marketing trends. This will open up even more possibilities for marketers to reach specific consumer segments — including Millennial Moms. Here are a few of the predicted upcoming trends in digital out-of-home advertising and how those trends tie in perfectly with the technology today's moms are using:



Messages will integrate more with mobile technology

.

According to a study conducted by the mobile ad network Greystripe, 79% of iPhone-owning Moms use their smartphones to help with shopping decisions on the go. Therefore, it's only natural for digital signage to work in tandem with these devices to provide incentives for Mom's decisions.
More coupons will be delivered via text message.

Whether they're in-store, in newspapers or online, coupons of all forms are used more by moms than any other adult. so, why not give them the coupons they want, at the exact time and place they're ready to use them? Text message campaigns integrated with digital out-of-home make this concept easy, fun and relatively affordable for marketers.
Social media marketing will keep growing.

Over the past four years, social media among moms has increased by an overwhelming 462%. However, Mom's social media involvement is a bit more complex than just opening a Facebook or Twitter account. Those sites do provide Mom with entertainment and socialization, but she is also likely to use sites like BabyCenter, WordPress, and Blogger to seek out information and make critical decisions about products. Digital signage integration with social media outlets like these could mean instant dollars as on-the-go moms shop, socialize and share their purchasing decisions with others.
MOM: THE UNEXPECTED TRENDSETTER

Despite balancing work, a family, and taking care of household purchases, 60% of moms still say that they don't feel overwhelmed by new technology and that it actually makes their busy lives easier. As moms become more and more likely to accept and embrace new technology into their lives, their courage serves as a beacon to others who are more resistant to electronic adoption.



If you still think that people are resistant to advertising, consider the target demographic of modern moms: an authority on household spending, an unexpected technology trendsetter, and most importantly, a notoriously attentive ad-viewer. There's a lot of power in that consumer. And to think, it all starts with something as tiny as a newborn baby.